This should not hold undue fears and anxieties for oil distributors; after all, many have successfully navigated the transition from coal deliveries and evolved to being suppliers of petroleum and other energy products, servicing a substantial, diverse portfolio of customers. Further, they have been eager adopters of new technology and digtal applications to improve both operational efficiency / effectiveness and the scope for enhanced customer interaction.
Backdrop:
The growth of liquid fossil fuels, which started in earnest post WW2, has created a very substantial revenue generating era for oil distributors to become key suppliers to the commercial, domestic and transport sectors. This is coming to an end and, at some stage over the next few years will start to experience a long-term decline which, in turn, will see the emergence of very different 'market dynamics' and competitive landscape.
Against that backdrop we consider some of the major challenges and opportunities that lie ahead.
Challenges:
Most of the major challenges to be faced fall under the broad heading of 'anticipating, understanding and managing the transition away from fossil fuels'.
Two particular issues present themselves:
In its 'Future Vision', published in July 2019, the primary physical suppliers' trade association, UKPIA, stated a commitment to cease supply of heating oil to properties off the gas grid during the 2020s, when use of liquid fuels for space heating is envisaged to fall to 'very low levels'. UKPIA does not envisage that a sustainable low carbon liquid fuel will have a future role in the energy supply system outside of the transport sector (ground transport, as well as aviation and maritime sectors).
In its 'Heat and Buildings Strategy' published in October 2021 the Government has included in its ten-point plan ambition an action 'To start by phasing out the installation of fossil fuel heating systems in properties not connected to the gas grid'. This will be accompanied by a consultation on ending the installation of high-carbon fossil fuels to heat homes that are not connected to the gas grid in England from 2026 and non-domestic buildings not connected to the gas grid from 2024. Households will not be forced to remove their existing boilers, instead an approach will be aligned to markets and consumer behaviour to minimise costs and disruption.
While there has been much work on, and advocacy of, a future role for a low carbon liquid heating oil, such as HVO, by both UKIFDA and OFTEC, it is far from certain if the case will gain government acceptance.
Whatever the outcome, there is a strong likelihood of the usage of kerosene, as a heating fuel, falling from its current circa 2.2 bln litres per year to around 1.5 bln litres by the mid-2020s, and being entirely phased out by the end of the decade.
The future trajectory for the other liquid petroleum products – gasoil and motor spirit – is less clear; suffice it to say that the trend will be in a downward direction!
This prospect throws up a number of challenges, most prominent of which are:
The addition and development of the skills required to meet 'the future state'. As businesses which currently encompass a broad spectrum of commercial activities, and will likely continue to do so, the skill-set will need to be broad-based; further, it will need to incorporate a shift in emphasis from 'hardware' related activities to those associated with 'software' as well as the addition of certain new skills and/or a shift in emphasis in the importance of existing ones.
Management of the customer portfolio against the backdrop of declining use of the main products currently, and historically, which have been the 'bread and butter' of the distributor sector. This presents two significant challenges (1) retention of existing customers- both of existing products and of new/different products and services, and (2) gaining of new customers for the said new products/services.
Building and nurturing of new/different supplier relationships, which, in some respects, is a corollary of the above and will be shaped by the way in which the sector evolves, and the kinds of new opportunities pursued. These relationships are likely to be materially different from those as resellers of petroleum products.
Adoption of and evolution to new and/or modification of existing business model, which is a logical and, probably, necessary accompaniment to the challenges already highlighted – affecting internal organisational structure, people, operations, support requirements, resourcing, in the face of a different market environment and competitive landscape, new and different customers, regulatory requirements etc.
Opportunities:
Distributors have extensive local knowledge and understanding of their local 'geography' of the customer portfolio to be serviced. These attributes will enable them to be uniquely well positioned to satisfy future energy/fuel requirements for space heating and agriculture, as well as transport/ mobility.
Given this, the kind of opportunities that readily spring to mind are those where these attributes are needed, such as:
Supply, installation and maintenance/servicing of heat pumps– while the rate of take-up is still low, this technology is the government's favoured solution for the decarbonisation of heating in both commercial and residential buildings.
Hydrogen supply– this gas is attracting greatly increased attention and interest, with applications in energy storage and power generation, as a heating fuel, for use in certain industrial processes and for transport/mobility.
Power supply– the electrification of both transport/mobility and heating will create substantially rising demand and the opportunity to participate, aided by increased deployment of distributed energy/power systems as power sources become more dispersed/localised.
Solar energy– there will inevitably be a continuing, and probably rising, requirement for the supply and installation of solar panels along with opportunities in small scale solar power plant projects.
Improved energy efficiency and insulation standards in buildings – the improved energy efficiency and insulation standards in buildings is an imperative, with the UK having amongst the poorest across Europe and so will provide opportunities through supply of appropriate materials / enhancement measures and advisory services etc.
Renewable fuels-apart from the above, while it is difficult to gauge how large the opportunity could be, there will be an on-going requirement, especially in the transport sector, for 'renewable' fuels as low carbon liquid 'drop-in' fuels. Distributors are very well placed to exploit these opportunities.
Challenges and opportunities – new and quite different from those encountered in the past and quite daunting, given the scale and magnitude of change coming down the line. As ever, being suitably prepared can offer the prospect of new, and potentially lucrative, revenue streams for distributors.
Author, Rod Prowse, worked for 30 years across the full spectrum of the downstream oil sector, in both the UK and USA, which has included leadership positions in both retail and wholesale fuels businesses. Rod draws on his extensive knowledge of this global industry to bring us Industry Insights.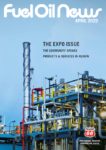 This article originally appeared in the April 2022 issue of Fuel Oil News magazine.
View the magazine