In April's edition, in anticipation of the EXPO in Liverpool this month, we chat with Ken Cronin, chief executive officer at UKIFDA.
Give your career history in 25 words or fewer
Commercial and communication roles in nuclear, renewables, oil and gas and fuel distribution, with a five-year break in betting and gaming.
Describe yourself in 3 words
Data driven fanatic.
What were your childhood / early ambitions?
To become a chemistry teacher.
Describe your dream job (if you weren't doing this?)
A custodian of an island in the middle of nowhere.
What's the best business advice you've ever received?
Don't believe anyone who says it is impossible.
Share your top tips for business success
Wake up every day with a smile and remember we are all human.
What's your most recent business achievement of note?
Starting a new job in a pandemic and not physically meeting anyone for 6 months and not driving anyone too mad in the process.
Tell us your greatest fear
Being bored – and there is no chance of that ever happening!
Which is most important – ambition or talent?
Most things you can learn but to turn it into something you need to have ambition.
What's the best thing about your job?
The amazingly diverse and talented people that work in this industry.
Which is the quality that you most admire?
Motivation.
What are you most likely to say?
Let's do it.
What are you least likely to say?
Let's do it tomorrow.
Describe your perfect day
Waking up and looking out to see the sea, walking along the beach, retiring for a long lunch with lots of seafood and one of my family to pay the bill and drive me home.
Do you have a favourite sports team?
Fulham Football Club – my dad took me to every home game when I was a kid and I cried when we lost the FA cup Final in 1975 to West Ham.
What's the biggest challenge of our time?
Ensuring we have the right skills for the period ahead and not just to outsource it all to someone else.
Cheese or chocolate?
Cheese all the way with Scottish oatcakes and maybe a small glass of something.
Share your greatest personal achievement
My four boys – although I cannot take all the credit as my long- suffering wife had probably more to do with them growing up to be people that you wouldn't mind having around for dinner.
What's your pet hate or biggest irritant?
People telling me you can't do something without really thinking about it first.
If you were on 'Mastermind' what would your specialist subject be?
This is really sad – red diesel legislation 1979 to the present day.
If you were elected to government what would be the first law you'd press for?
Free school meals for all children – we shouldn't stigmatise children at such an early age. Sitting down and eating with your friends is such a learning experience for future life.
If your 20-year-old self saw you now what would they think?
Sorry, who are you?
What is number 1 on your bucket list?
I have been very lucky in the jobs I have done which has allowed me to travel but I would love to go to Australia and see Sydney Opera House.
What 3 things would you take to a desert island?
A limitless supply of music, a fishing rod and my wife.
Tell us something about you that people would be very surprised by
When I was a kid at school, I was lucky enough to perform at the Royal Opera House and the
English National Opera. I still sing in the shower.
Who would you most like to ask these questions of?
If he was still alive, Pavarotti – it still stuns me he couldn't read music despite being one of the most famous singers ever.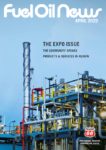 This article originally appeared in the April 2022 issue of Fuel Oil News magazine.
View the magazine