The HVO demonstration is being led by trade associations OFTEC and UKIFDA, in partnership with fuel distributors and technicians, as part of the Future Ready Fuel campaign. The industry is self-funding the project and is investing over £800,000.
Hydrotreated Vegetable Oil, otherwise known as HVO, is derived from used cooking oil and has been certified as sustainable by the International Sustainability and Carbon Certification (ISCC). It immediately reduces emissions by 88% and works in existing oil heating systems following a simple £500 conversion.
The transition to the low carbon fuel can be completed as part of a normal service and is seen as a more attractive alternative to heat pumps, which can be expensive and disruptive to install in homes off the gas grid with poor insulation and low energy efficiency.
Proactive trials prove hugely successful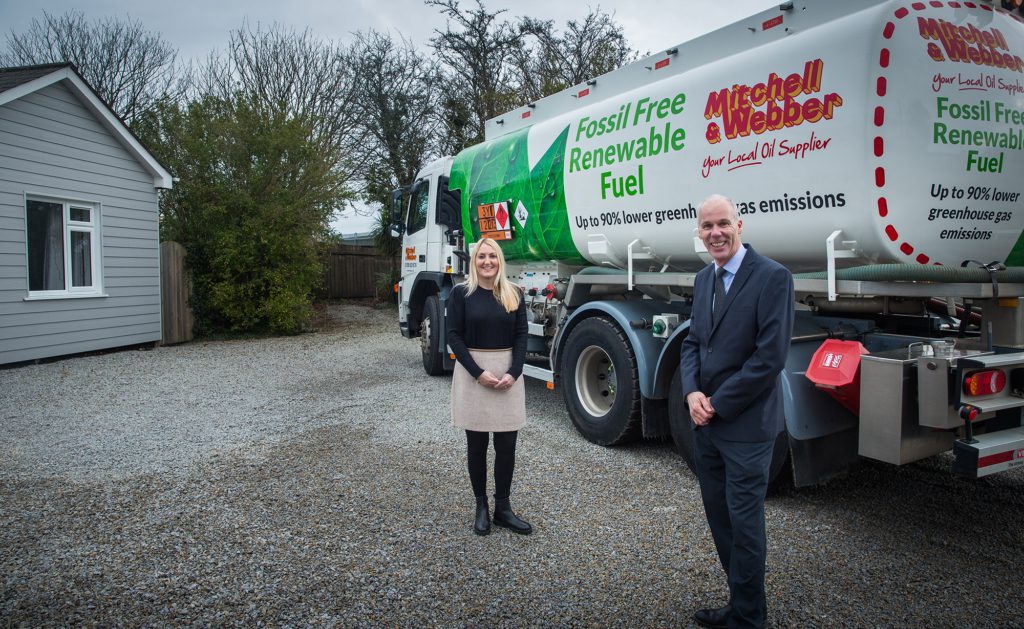 Cornwall based fuel distributor Mitchell and Webber, which has been supplying kerosene to homes and businesses across Cornwall and Devon for over 120 years, converted the first oil property to HVO in November 2020. Since then, the firm has significantly expanded the rollout and has now transitioned nearly 50 sites in the Kehelland area to HVO, from domestic homes to businesses as well as two churches, two schools and a pub.
"From the outset we felt it was important for us to demonstrate the viability of HVO in not just domestic homes, but a wide variety of different buildings and oil appliances as off-grid properties are all unique" says John Weedon, director at Mitchell and Webber.
"We've very pleased with the progress we've made and the conversion process has been very straight forward. Our technicians have reported how clean the system is even after several months running HVO and our customers are very happy, even saying how they've forgotten they're using a greener fuel as it works in exactly the same way as kerosene.
"We know many of our oil customers want to play their part in going green but are concerned about the high costs and disruption in converting to heat pumps. That's why we've been proactively working with our industry partners to demonstrate the benefits of HVO as a simple, alternative solution for homes, not just in Cornwall, but across the country."
Keen to deliver across Scotland
Over 600 miles north in the Scottish Highlands, independent fuel distributor Highland Fuels, which has been delivering kerosene across Scotland for 65 years, was the first Scottish distributor to supply HVO as part of the demonstration. In the past year, the firm has converted five homes in Banchory and Lumphanan to the renewable fuel with an additional property set to join later this month.
"We want to play our part in helping our customers transition to a low carbon fuel and we have a very exciting solution in HVO", says managing director Stephen Rhodes. "The oil properties we have converted are detached family homes which are typical in this area. They have low levels of insulation which means they are less suited to heat pumps.
"Through HVO we have delivered a simple, fossil-free solution. Our customers have said they couldn't be happier with the straightforward conversion process as it means they can continue to use their heating system the same way as before, but know they are making a real difference by reducing their emissions. Focussing on replacing the fuel and not the appliance also removes all the hassle of switching to a completely different system.
"Our experienced team is prepared and eager to deliver this fuel more widely across Scotland and we will continue to work with our industry partners to secure support from government."
Supporting a wider rollout
Paul Rose, CEO of OFTEC, and Ken Cronin, CEO of UKIFDA, add: "The off-grid sector is one of the most difficult to decarbonise due its diverse housing stock. If we're serious about our commitment to net zero, then consumers need a choice of technologies so they can adopt the right fuel for their home in a competitive market. There is no one size fits all solution.
"Our industry has worked together and taken the initiative to demonstrate how oil homes can successfully adopt HVO. We are ready and waiting to lead the charge for a wider rollout, but we need the policy support of government to make this happen."
OFTEC and UKIFDA are providing regular updates on the new renewable fuel through the Future Ready Fuel campaign website: www.futurereadyfuel.info.