Electric avenue
HGV fleet operators face a huge challenge in rapidly switching to more sustainable fuel sources to meet climate targets. HGVs account for 16% of UK transport emissions, despite representing just 5% of the total mileage covered on the UK's roads.
While electric vehicles may, ultimately, be the answer to decarbonising transport, there are still many practical matters that need addressing. There are issues around battery production, an entire infrastructure to replace and, currently, less than 40% of electricity consumed in the UK is renewable.
There are 278 million cars on Europe's roads and only 0.2% are fully electric. In the UK there are 35 million cars but, as only 0.3% of these are fully electric, the majority of the general fleet is still pumping out emissions…and our 2050 target is looming.
Andrew Willson, CEO of specialist fuel developer, Coryton raises the question: "In our quest towards perfection, are we ignoring solutions that could have an immediate and effective impact on the climate emergency we currently face?"
Biofuels – an immediate impact
"Sustainable liquid fuels could begin making a difference almost immediately, reducing greenhouse gas by up to 80% if fully replacing their fossil-based equivalent. But even a staged introduction could remove 130 million tonnes of CO2 in Europe by 2030 – almost the same amount as 33 coal-fired power stations would produce in a year."
Currently up to 10% of the E10 petrol at the pumps is biofuel, but Andrew believes this doesn't go far enough: "Sustainable fuels could be used in all cars which typically run on petrol or diesel. There's no need for any alterations to vehicles or the infrastructure surrounding refuelling.
"We're limited to the amount of bioethanol we can use in fuels before there's a compatibility issue, but we could use other biowaste to produce other bio-components, with no such issues and with some support to scale up operations. Due to current government policy, there has been no call to produce sustainable fuel in the huge volumes needed – but it could be done, and studies have been undertaken to prove it."
Buying time
"Here we have a solution that could be making a difference to greenhouse gas emissions almost immediately and, given that we're in a climate emergency, why would we not make those easier changes as we transition into fully electric vehicles?", asks Andrew.
"It doesn't help when data is misrepresented or 'cherry picked' by influential NGOs and then used as a base for government policy. It's time we stopped looking at solutions as being either perfect or not worth exploring. While we're gearing up the electric infrastructure, we're still emitting millions of tonnes of CO2 from our cars every year. Sustainable fuel may not be the ideal solution but, realistically, nothing out there currently is, and it's the only option for tackling the existing fleet. It makes sense that we employ a suite of effective solutions to tackle these issues as quickly as possible. Imposing a single solution policy suppresses innovation that might find better or complementary ones."
Last year, the UK Government changed regulations to increase the amount of ethanol in petrol.
"The impact of this is the equivalent of taking 350 cars off the road every year with no perceptible changes for the majority of consumers," says Stephen Marcos Jones, director-general UKPIA.
"This is a perfect example of a progressive measure to reduce emissions until a greater uptake of electric vehicles or other zero-carbon transport fuels emerge at scale. It reduces emissions today, and it promotes further investment into renewable fuels that will be vital to decarbonising hard-to-abate sectors like HGVs, marine and aviation.
"The Renewable Transport Fuel Obligation is already set to increase biofuel content to 14.6% by 2032. We are keen to work with the DfT to see if that can be increased further as the challenges of electrifying, or even hydrogen-fuelling HGVs and other high duty vehicles, mean that deployment may still be years away from being delivered at scale."
Big names get on board with biofuels
Some of the industry's biggest names have jumped on the biofuels bandwagon, including bp, which clearly sees their potential. The company has acquired a 30% stake in Green Biofuels (GBF), the UK's largest provider of low emission hydrogenated vegetable oil (HVO) fuels.
bp's investment will support GBF's growth as it works with businesses looking to transition away from using traditional diesel fuel in their assets, such as HGVs. It will also expand bp's global biofuels portfolio and its lower carbon solutions for UK customers.
GBF's products are made from renewable feedstocks such as vegetable oils, animal oils and fat. The product range includes HVO Gd+, a low emission, advanced HVO fuel that can be used as a direct drop-in replacement for diesel. HVOs have enormous potential to play an important part in supporting lifecycle emission reductions in numerous sectors, providing a commercially viable decarbonisation option for fleet owners, construction companies and vessel operators as a drop-in replacement fuel.
William Tebbit, CEO of GBF, explains: "Our mission is to support the net zero energy transition by providing an immediate solution that makes a difference to carbon and air pollution emissions today. Our fuels provide businesses the time to transition to new technologies when they are proven both economically and operationally."
And it's not just bp, ExxonMobil recently acquired a 49.95% stake in a Norwegian biofuels producer. Biojet AS plans to develop up to five facilities to produce lower-emissions biofuels and biofuel components by converting forestry and wood-based construction. Commercial production is expected to begin in 2025 and, under the terms of the agreement, ExxonMobil will be able to purchase up to three million barrels of the products per year.
Hydrogen – a net zero hero?
Hydrogen is seen as a very viable solution to the challenge of decarbonising some of the most polluting parts of the economy and will provide real opportunities for zero-emission vehicles, especially in the heavy transport sector. Hydrogen buses, tractors and even a cargo submarine are all being developed and have the potential to play a huge part in the future of net-zero transport.
Leading the charge is the Decarbonised Gas Alliance (DGA), an organisation which represents nearly 30 pioneering businesses that are striving to decarbonise the UK's gas system quickly, safely, and cost-effectively and meet the country's net zero target.
The DGA has come together to explore the role of hydrogen in decarbonising the country's industry, transport and domestic heating sectors and, last year, as part of a UK-wide roadshow, it completed a 10-stop tour, visiting ground-breaking projects across the country, all from behind the wheel of a vehicle fuelled entirely by hydrogen.
The projects included Northern Gas Networks' Hydrogen House innovation site – where the UK's first homes to feature 100% hydrogen gas appliances are sited – Thames Estuary, Equinor's Hydrogen-to-Humber (H2H) Saltend project, Fuel Cell Systems, Johnson Matthey, DNV, and the Shell Learning Zone.
And, in January, we saw the launch of the UK Hydrogen Policy Commission – a new group of senior politicians and policymakers that will hold the Government to account on its hydrogen policy commitments – proof that, as a country, we are taking hydrogen seriously. There are fears that the UK is at risk of missing out on potential hydrogen opportunities and the Commission will consider ways that the Government can maximise levels of private investment.
As well as helping the Government to achieve its ambitions of 'levelling up' and reducing carbon emissions, a hydrogen economy could also protect and create thousands of jobs, as former general secretary of the Labour Party, Lord McNicol indicates: "Embracing hydrogen is critical to achieving the UK's net zero ambitions. From supporting the decarbonisation of energy intensive industries to reducing public transport emissions, there are myriad applications for hydrogen that won't just help us meet our climate goals but will also protect and sustain high skilled jobs."
On trial
CNG, the largest supplier of low carbon fuels for HGVs, is going to be hosting hydrogen fuel trials this year across its rapidly expanding network of public access biomethane refuelling stations to support the decarbonisation of HGVs. HyFuels, which is a new branch of the company, has been established to identify the best hydrogen production pathways and infrastructure solutions for HGVs.
Findings from the trials will be used to inform government, industry and customers on the effectiveness of different hydrogen solutions and outline key infrastructure considerations for a hydrogen refuelling network. The company is also planning to incorporate the findings into a wider business strategy, with a complete roadmap for companies to switch fleets from diesel to net zero fuels.
CNG CEO, Philip Fjeld, comments: "HGVs alone account for 5% of all UK emissions, making their decarbonisation one of the single most important things the UK can do to meet our net zero ambitions.
"Renewable biomethane is, and will continue to be, the most effective decarbonisation solution for heavy transport for many years. However, we've launched HyFuels to ensure we're ready to support our customers' journey to a multi-fuel future as new technologies become commercially viable and the fuel readily available."
Baden Gowrie-Smith, CFO of CNG and head of hydrogen development for HyFuels adds: "We build our sites with our customers' future needs in mind, acquiring additional space so we can expand as demand grows. This means up to 30% of our future land will be perfectly placed to deploy multi-fuel trials on some of the busiest haulage routes in the UK.
"As soon as these technologies are viable, we will be ready to support our customers in adopting the latest and greatest in low carbon technology. With increasingly aspirational decarbonisation targets set by government, our role is to support fleets in their journey to net zero, making it as simple and affordable as possible."
bp also has a foot in the hydrogen camp
The company is working with Daimler Truck AG to help accelerate the introduction of a hydrogen network. Under their Memorandum of Understanding (MoU) bp will assess the feasibility of designing, constructing, operating and supplying a network of up to 25 hydrogen refuelling stations across the UK by 2030. These stations will be supplied by bp with green hydrogen generated from water using renewable power. Alongside this, Daimler Truck expects to deliver hydrogen-powered fuel cells to customers from 2025.
Emma Delaney, bp's executive vice president for customer and product said: "Hydrogen is critical to decarbonising hard-to-abate sectors, and for heavy and long-distance freight, it is sometimes the only answer."
Moving in the Wright direction
In the December issue, we looked at how bus manufacturer, Wrightbus, is leading the way when it comes to hydrogen. Since launching the Streetdeck Hydroliner in 2020, it has prevented one million kilogrammes of carbon dioxide from entering the atmosphere. Emitting just water, and no nasties from its tailpipe, the reduction in emissions from the 600,000 miles covered by its fleet of hydrogen-powered buses, is the equivalent of taking more than 230 cars off the roads for a year.
As well as fleets in Aberdeen, London, Birmingham, Dublin and Belfast, Wrightbus has signed a deal to supply its hydrogen-powered buses to the Go-Ahead Group. As part of the agreement, Brighton and Hove Metrobus has purchased 20 Wrightbus hydrogen fuel cell buses for deployment on the Fastway routes in the Crawley, Redhill and Gatwick Airport areas. The single-decker GB Kite Hydroliner buses will be delivered in June and will be the first hydrogen powered vehicles in Go Ahead's fleet of more than 6,000 buses.
How aviation can help
To highlight the potential of low carbon hydrogen fuel, Wrightbus' double decker hydrogen bus took part in a 600-mile tour of the UK last October, which included a stop-off at COP26. The UK Hydrogen Roadshow was a partnership between Wrightbus, hydrogen distribution firm, Ryze Hydrogen and hydrogen production company, INEOS, through its subsidiary, INOVYN. Along the way the bus refuelled at Sutton Tankers' Gretna depot and zero emission aviation pioneer, Zero Avia's R&D base in the Cotswolds, showing how aviation technology can support advancements in other areas of transport.
Sergev Kiselev, Zero Avia's head of Europe, commented: "With passengers connecting to other modes of transport such as buses and trains and high volumes of road freight feeding airport operation, the potential to use hydrogen fuel cell technology to decarbonise these vehicles will be aided by the adoption of hydrogen-electric propulsion and refuelling operations at airports. The refuelling demonstration is an early sign of the potential for airports to act as hubs to support demand for green hydrogen."
Production potential
And, on the supply side, hydrogen production is ramping up – vital if we are to meet the UK Government's strategy of achieving 5GW of low carbon hydrogen production capacity by 2030.
"Like low carbon fuels, the downstream sector is already supporting hydrogen and supplies it to forecourts for light-powered vehicles such as the Toyota Mirai," highlights Stephen Marcos Jones, UKPIA. "Hydrogen is also suitable beyond cars and some of our members are looking at ways to help support the uptake of hydrogen in heavier vehicles. This means working with hydrogen bunkering solutions at ports to refuel hydrogen-powered shipping or delivering to the agriculture sector for their bespoke vehicles."
Essar recently announced a new joint venture with Progressive Energy to build the UK's largest hydrogen hub at the Stanlow Manufacturing Complex. Vertex Hydrogen has been formed to provide the catalyst for development of a hydrogen economy across North West England and North Wales, at the heart of the HyNet decarbonisation cluster. It will produce a total of 1GW per year of hydrogen across two units from 2026, providing low carbon energy to replace fossil fuels in industry across the region, as well as heating homes, and fuelling buses, trains and trucks.
INEOS at Grangemouth has also announced big plans to construct a low carbon hydrogen manufacturing plant. The carbon dioxide from this project will be routed to the Scottish Cluster's Acorn CO2 transport and storage project, resulting in reductions of more than one million tonnes of carbon dioxide emissions each year.
CEO and chairman, Andrew Gardner, commented: "This is an exciting development and an important step forward for our site. We are determined to reduce our own emissions to net zero by 2045, create products that will help others reduce their emissions, and play a leading role in a clean hydrogen revolution."
At the end of 2021, Exxon Mobil subsidiary, Esso, signed an MoU with gas distribution group, SGN, to explore the use of hydrogen and carbon capture in the Southampton industrial cluster, home to the Fawley refinery. There's real potential here for a Southampton Hydrogen hub that could lead to large-scale hydrogen production at Fawley.
The study estimates that carbon capture facilities could initially capture approximately two million tonnes of CO2 per year, including from initial hydrogen production of around 4.3 TWh of hydrogen per year, reducing emissions and stimulating the local economy.
Angus McIntosh, director of Energy Futures, SGN said: "Hydrogen will be key in our journey to net zero, providing a reliable, affordable and practical supply of clean energy to multiple sectors while ensuring security of supply."
Looking to the South East, Global consulting and engineering company, Wood, has agreed a MoU with HYGEN Energy to accelerate the production of green hydrogen in the UK. The agreement will see Wood bringing together its many years of hydrogen experience, consulting projects and operations expertise to develop solutions for future hydrogen plants, starting with the conceptual design for the facility at Herne Bay in Kent. The facility will generate green hydrogen from existing offshore wind farms from the middle of 2023.
All in the mix
Despite the many challenges that lie ahead, the UK has already taken huge strides towards transport decarbonisation. As highlighted in 'Industry Insight' in this issue, it's not about finding a single solution but, rather, taking a multi-faceted approach and looking at new, immediate, ways to tackle the problem while we wait for the electrification of transport to be fully adopted.
Biofuels may be the answer right now, but hydrogen is the next logical step, and may turn out to be the net zero hero that we're looking for.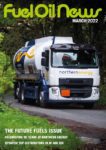 This article originally appeared in the March 2022 issue of Fuel Oil News magazine.
View the magazine