The Mercedes-Benz Dealer plans to open a workshop bay at its branch in Birmingham, that will be compliant with ADR and Petroleum Regulations. Crucially, it will operate on a round-the-clock basis, from 6am on Mondays until Saturday lunchtimes.
Midlands Truck & Van began trading towards the end of 2020 from its purpose-built, £7m dealership in Cornwall Road, Smethwick. The 'Pet. Reg' bay, which is due to begin operating early in the New Year, is located at the far end of the workshop. It has a 15-metre pit and, for safety purposes, is separated by a wall from the rest of the building, which boasts six drive-through truck and trailer bays, and others for vans.
The HSE and Dangerous Substances and Explosive Atmospheres Regulations place a duty of care on employers to protect all personnel from any risk arising from fires, explosions or similar events in vehicle maintenance workshops.
Significant investment in equipment and team
The dealer is investing some £75,000 on specialist and custom-built inspection equipment and ADR Hazardous Goods training for truck service manager Dean Bennett and the four technicians hand-picked to man the bay. 'Big ticket' items will ultimately include a bespoke working-at-height facility, while the inventory also includes vapour tightness testing systems and dedicated gas detector units, as well as adaptors and connectors to facilitate the safe opening and closing of valves.
Midlands Truck & Van has engaged consultants to assess the facility's compliance with the recommendations of the Energy Institute publication on the Design, Construction and Operation of Workshops for Petroleum Road Tanker Maintenance. This provides guidance on the requirements for workshops that inspect and maintain road tankers used to transport petroleum fuel products and covers the control of potentially explosive atmospheres as well as risks associated with working at height.
Following assessment and approval the dealer will be authorised to issue the Safe Loading Passes required by participating fuel terminals. A Safe Loading Pass confirms, for example, that certain additional mechanical and electrical systems fitted to a road tanker have been maintained to a standard that means they do not present an unacceptable risk.
Midlands Truck & Van's technicians are being trained to identify possible leaks and will be permitted to maintain and replace items of service equipment in accordance with the Vehicle Certification Agency (VCA) Guidance on the application of EN 12972. A vapour tightness test will be undertaken following completion of a repair or replacement.
Broad range of services across a broad range of brands
The dealer's new Pet. Reg. service will be available to operators of all makes of tractor unit and rigid truck used to transport petroleum – so not just those with three-pointed stars on their grilles – as well as petroleum tank semi-trailers. Once it is up and running, the facility's remit will be extended to cover a broad spectrum of hazardous loads.
Managing director Steve Hunt confirmed: "We'd planned from the outset to establish a Pet. Reg. operation at Smethwick, and the bay was incorporated within the original design of the building. It was 'mothballed' initially, though, as our first priority was to focus on delivering the mainstream repair and maintenance support that our customers rely upon."
Consultancy advice on equipping the new bay and on-site training have been provided by Melville Wilby, of Cardinal Solutions, and Eric Gillespie, of EBG Services, both of whom have long track records in the petroleum engineering and associated sectors. Members of the dealer's technical team have also attended a J Coates (HGV) Services course on driving ADR hazardous goods vehicles, so they are qualified to move trucks and trailers in and out of the bay.
Additional service point for fuel tanker operators
Eric Gillespie observed: "There are major fuel companies with large storage facilities in and around Birmingham that no longer have in-house inspection and maintenance capabilities. Operators are looking for additional service points able to provide high-level support at times that suit them.
"Midlands Truck & Van clearly has an ethos of customer service, and its Smethwick dealership is ideally located in a part of the West Midlands that is not particularly well served currently. Against this backdrop, I'm sure its new ADR facility will prove very popular."
Following the DfT's recommendation that the DVSA lift its moratorium on the establishment of new Authorised Testing Facilities, Midlands Truck & Van is also well on the way towards securing approval for truck MoT tests to be carried out at Smethwick.
The dealer's intention, initially at least, is to offer an amber ATF service, covering vehicles used to carry certain restricted goods, in addition to those engaged in transport operations that are not defined as dangerous.
Steve Hunt continued: "The very significant investment we're making in our new Pet. Reg. service reflects Midlands Truck & Van's commitment to provide customers with a truly comprehensive, 'one-stop shop' service.
"I've every confidence that by adding this additional string to our bow we'll also be opening the door to conversations and opportunities to grow our business with operators that don't currently have relationships with us."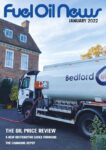 This article originally appeared in the January 2022 issue of Fuel Oil News magazine.
View the magazine