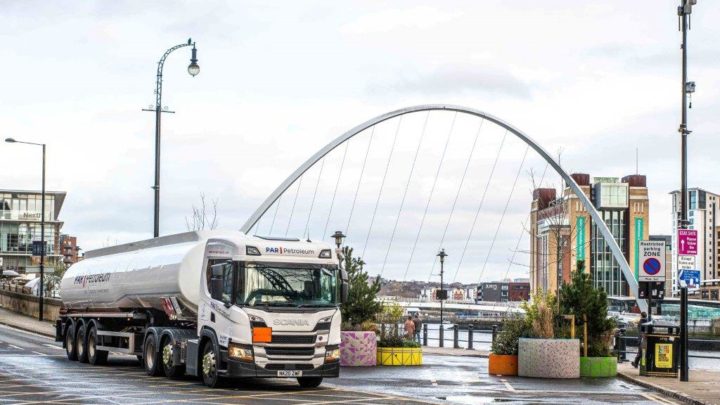 The independently-owned business, that has been operating for over thirty years, supplies bulk fuel and non-hazardous liquid products nationally to the retail, marine and oil sectors with its fleet of 27 tankers supplying logistics services to fuel distributors and oil companies nationwide. It also supplies fuel and lubricants to homes, farms and businesses.
Earned Recognition is a DVSA industry leading standard, reserved only for operators who can demonstrate a strong track record of compliance and adherence to DVSA standards. Companies must hold a green Operator Compliance Risk Score (OCRS) and have a digitally approved reporting system for maintenance and driver hours to be eligible to apply.
Operations Director at Par Petroleum, Stuart Hardy commented: "We are thrilled to be awarded this status. Our team work very hard to maintain our high standards across the business and this is testament to their efforts."
Extending the high standards to environmental considerations, all deliveries are made with intelligent route planning to provide efficiency for the customer and reduce environmental impact and the business also carries out rainwater harvesting as well as operating a solar farm at both the head office and depot. A drainage interceptor under the site safely removes any run-off liquids to further protect the surrounding environment and in addition to traditional fuels, the business also supplies lower carbon fuels including HVO.
Effective transport management
Assessment for the scheme includes an extensive audit which is accompanied by three months of clear KPI period reporting as set out by the DVSA. As part of this audit, operators must demonstrate they have robust systems and processes in place that promote effective and proactive transport management.
DVSA Earned Recognition status creates an aspirational model that improves compliance and raises industry standards as Stuart confirms: "We have a programme of continual improvement that has enabled us to sustain our growth and retain our position in the market. We strive to create a market leading business that demonstrates best practice to its customers and our teams."
Placing a high value on compliance, Par Petroleum operates with complete transparency, providing the DVSA with remote access to business systems to monitor data and carry out assurance checks. This gives the DVSA confidence the business is managing their transport operation effectively.
Enhancing the business
In achieving this status, Par Petroleum is in a unique position as the scheme is typically achieved by large companies across the UK. Leanne Hardy, managing director explains: "We are proud to have been awarded this status as we are part of only a handful of businesses our size in the UK to hold this accreditation. It demonstrates our commitment to the industry and to our colleagues and our ability to compete with much larger businesses."
Par Petroleum has been supported by its sister company, Petroleum Fleet Services Ltd, in achieving this accreditation. With its high standards of maintenance and reporting systems, Petroleum Fleet Services was instrumental in supplying data for the DVSA assessment.
The scheme streamlines the DVSA monitoring processes by reducing the number of potentially inconvenient and costly roadside checks as well as visits from enforcement officers. Achieving the accreditation also reduces the administrative burden of regulation on operators.