Talk us through the heritage of the business from its beginnings through to the major change last year.
Our heritage is in supplying fuel – formed in the 1800's the business was originally involved in dredging, following which it was a supplier of coal and latterly of fuel to both commercial and domestic customers. In 2009 the business was acquired by Mabanaft Limited, although it still remains an independent company.
Fuel cards were initially introduced as an additional offering to support existing commercial customers with their refuelling requirements.
I joined the company in 2010, originally to establish a separate Fuel Card channel however, in a relatively short space of time, I also became involved in all areas of the business.
Over the next years, business reviews led to the introduction of a new structure and associated processes and procedures. Bulk fuel distribution activities continued across parts of England and Wales until, in 2019, we made a strategic decision to focus solely on the provision of nationwide fleet solutions to businesses. As a result, the bulk fuels business was sold.
Today, our mission is to be the best fleet management solution provider, supporting companies in the efficient, and effective, management of their fleet operations. Our customers have always been and remain at the heart of everything we do, and our commitment to putting them first and answering their needs is robust.
What influenced the decision to diversify from the original business and focus on fuel cards?
As a small regional distributor of fuel, we recognised the opportunities that the expansion of our fuel card business model provided. Strong communication with our customer base led to the introduction of a fleet management solution in 2018 – Miles Monitor. Alongside fuel cards we now offer a complete 360 solution to customers in the management of their fleets.
How did you ensure an effective focus on two different areas?
Having created a new and separate fuel card business, within the existing business, this allowed us to challenge the status quo. With the knowledge and experience gained from the establishment of the fuel card channel, specifically the processes and procedures, a new business model for the bulk fuels business was implemented. In addition to this we focused on updating our culture.
We are a people-led business and, therefore, the performance and development of our employees is of paramount importance.
The success of our fuel card business reflects the early employee buy-in and commitment to our mission and values. For me, such commitment is critical to a business such as ours and, therefore, effective ongoing communication of strategy and how each area of the business contributes to that strategy cannot be understated. In addition, along the way, it is important to be honest, to celebrate success and in pursuit of ongoing business improvement, continually challenge the way things are done.
I understand you have been involved for over 11 years now. What has been your own personal involvement with the business and the launch of the fuel cards?
For the majority of my tenure, I have been heavily involved in all areas of the business, with a particular focus on the design, development and, most importantly, implementation of effective strategies. In addition, I was a driver in the review and re-statement of our mission, business vision and the establishment of the associated values which, together, define the culture of the organisation.
Some of the changes introduced have been relatively simple, such as ensuring that we provide exceptional levels of customer care every time, whilst others have come as a result of challenging industry and company norms which was especially relevant to the bulk fuels business as it was so reliant on seasonality. What it comes down to is making sure the changes are working and delivered consistently.
Following the sale of the bulk fuels business, our focus is on the ongoing development of our portfolio of fleet management solutions designed to help our clients focus on their core business whilst we take care of their fleet operations.
What have been the main company milestones of growth and change?
For the bulk fuels business, I would say that the biggest achievement was the introduction of a more strategic approach, moving the focus from one of being operationally led to sales and marketing led.
In early 2019, to clearly differentiate between the services and products offered, i.e. bulk fuels and fuel cards, the latter was rebranded as Silvey Fleet, to emphasise our growing range of products designed to help drive fleet efficiency.
By November 2019, following a UK Group wide restructure, the bulk fuels division had been sold. This allowed us to focus on the continuing development of the Silvey Fleet business to provide customers with services and products designed to help them manage and run their fleets more efficiently.
Despite all our changes and the significant challenges brought to bear by the Covid-19 pandemic, in December last year I was absolutely delighted to learn that we'd been awarded the 'We Invest in People' Gold accreditation. Investors in People recognised, over the past year that, despite there having been significant changes to the business, our employees have remained highly engaged.
With the growth you have experienced as a company you must have faith in the future of some form of fuel distribution. With the government seemingly backing heat pumps or other new tech over biofuel, do you remain confident?
We still have a long way to go to reduce our reliance on fossil fuels. It is inevitable that this will happen however, as long as you are prepared for changes and ensure that your business model is flexible, you will be able to navigate through the change.
There will still be a need to meet the needs of customers and provide 'energy.' It is a case of continuing to identify and explore new opportunities and being open and receptive to change.
How do you see the longer-term future for the supply of diesel, kerosene and gasoil markets?
I think we will see significant changes with the demand for traditional fuels moving to alternative sources of energy with a shift, to EV, CNG, LNG and hydrogen.
Has growth resulted in geographical expansion or moves and how many locations do you operate from?
For us, growth came from having one office and centralised functions. Initially our head office was in Yate. Having all the key functions together made it easier to deliver consistent approaches for many aspects of the running of the customer-facing and operational functions.
By 2019, we were quickly out growing the space available at Yate, so we took office space in Bradley Stoke, within the Bristol conurbation.
Given the government actions to hasten the energy transition does the company envisage a need to change or diversify further and, if so, what direction might that take?
Diversification and change is natural and our business is used to such situations. We have learnt that we will continue to go where the market and customer leads us, since it is important to keep evolving and responding to customer needs.
That's why it's important to be ready to adopt and adapt. Being agile means that we can quickly respond to change.
What is the company doing to satisfy its environmental conscience and what goals is the company setting in advance to reduce emissions?
For the past two years we have supported forestry replanting schemes; during 2019 we planted a tree for every employee and, this year, we're working with the Forest of Avon. We have also introduced other ways to reduce our emissions, such as encouraging employees to 'cycle to work' or car share where possible. We also operate a paperless policy.
Since the launch of the fuel cards talk us through the development of other complimentary products such as the Miles Monitor fleet management products
Whether it be for transportation of people or goods, the businesses we work with rely heavily on their vehicles, which in turn need fuel, be it petrol, diesel or electric. For us it was a natural progression to look at introducing a range of fleet management solutions so companies could make cost savings and improve the efficiency of their fleets.
Over the next three years, what do you see as the major challenges to the industry and what are the positives?
I think that the greatest challenge to the industry will be the move away from fossil fuels to more environmentally friendly alternatives. On the positive side, this allows us to be inventive and create partnerships with companies who are not directly involved in the oil and gas industry.
We reported at the end of the year on your impressive Investors in People accreditation. How does this reflect the values of the company?
Our Gold accreditation very much embodies our vision – we are dedicated to delivering the highest quality customer service and investing in our people and their development. We believe that happy and motivated employees are a critical element in the ongoing development and success of our business.
Looking to the future what is the vision for Silvey Fleet?
Our vision: To be the best fleet management solution provider.
We will achieve this by having the courage to embrace change and opportunity, challenge the status quo and grow in harmony with our values. Our staff are passionate, determined, energetic and creative. Customers, employees, suppliers and owners are extremely proud to be associated with the company.
We are a customer-centric company so we will always do what the customer wants. By working with them, listening to their pain points and understanding their business, I know that we can continue to adapt our fleet management solutions to suit their ever-changing needs.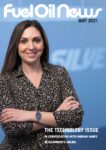 This article originally appeared in the May 2021 issue of Fuel Oil News magazine.
View the magazine