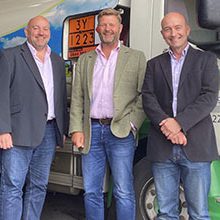 Jason Sharp who has a 20-year plus career across a variety of sectors takes up the board level role across the Group.

Jason was formerly CFO and co-founder of Vapour Cloud a private equity technology company founded to devise and deliver secure, next-generation voice, video, connectivity and storage solutions for organisations across the UK.

As a chartered accountant, Jason previously worked for Daisy Group Plc, BNFL, FirstGroup, United Utilities, Rolls Royce and Ernst & Young, when talking about his new role, Jason said;

"From the moment I met Chris and Richard I knew I wanted to be part of the Craggs team and work with them in delivering the next phase of growth through a combination of their innovative organic growth, such as the 'Naked Fuel Card' and through acquiring companies who deliver a similar high level of customer service.

The Craggs Energy Group has huge potential across its four businesses and my experience in fast growth technology led companies was a perfect fit".

Chris said; "Since we launched Craggs Energy nearly 10 years ago, we have created four companies within the group through a combination of significant organic growth and some smaller acquisitions.

With the group of companies all reaching a level of maturity, now is the time for us to look at the next phase of growth and development which will involve further organic growth, but also potentially a number of larger and more complex acquisitions.

We have a very strong operational team to deliver this growth, but I needed a strong and experienced CFO to help us manage the next phase and I am delighted that Jason has decided to join us on our journey.

His background in merger and acquisitions is exactly what we need, along with his personal style which is very open and direct – that fits well in our senior management team."

The Craggs Energy Group was established in 2011 with the creation of Craggs Energy Limited a regional kerosene, red diesel and other fuel distributor originally based in West Yorkshire but now includes a large operational centre in East Lancashire.

In addition to the fuel distribution arm the group also consists of a UK wide fuel brokerage business, a fuel card business and an environmental services business which focuses on fuel quality and tank infrastructure which completed two successful acquisitions in 2019.