The latest addition to the Crown Oil tanker fleet is ready to deliver HVO across the UK.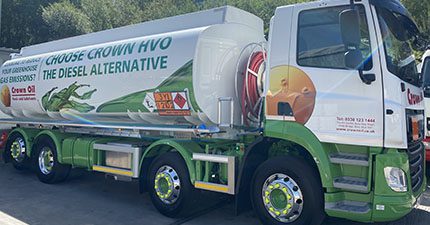 The 8-wheeler DAF tanker joined Crown Oil's fleet last week, and with the registration number BIO HVO, it is no secret as to what it will be carrying across the country.
A spokesperson for Bury based Crown Oil, said; "We're excited to announce a brand new edition to our fleet! Our green tanker is ready to deliver our green diesel across the UK."
Speedy Fuels and Lubricants, a member of the Crown Group established in 2012 to serve the London region, also added a 6-wheeler DAF tanker to its own fleet in March this year. The company, which has gone from strength to strength and now deliver to customers nationwide also uses its new tanker to transport HVO.
Find out more about Crown Oil's journey into low carbon fuels in the next issue of Fuel Oil News out in July.
To make sure of your copy you can subscribe here:
https://fueloilnews.co.uk/subscribe/