The leading representative body for the UK's offshore oil and gas sector has warned the latest oil price developments could fundamentally undermine the ability of the industry to recover and serve the energy transition.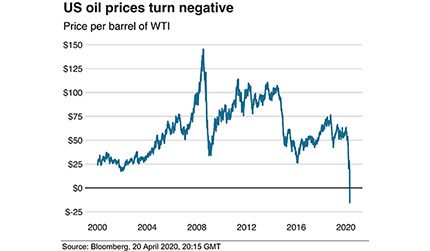 It comes as US crude oil prices continued to drop reaching the historic low on Monday evening, while the international benchmark Brent crude fared better with OPEC+ cuts due to take effect and storage constraints less pronounced, trading at just over $25 a barrel. While WTI is a localised trading market in the US, OGUK warned that it remains concerned about the continued low prices of Brent crude.
OGUK Chief Executive Deirdre Michie said; "While we have anticipated continued pressures on oil markets, there's no getting away from the fact that this situation is a body blow for an industry already creaking under the strains of the impact of COVID-19 and sustained low commodity prices.
"The dynamics of this US market are different from those directly driving UK produced Brent, but we will not escape the impact. Ours is not just a trading market; every penny lost spells more uncertainty over jobs, our contribution to public services and to the just transition we all want to see. OGUK will be pressing the case for a COVID-19 resilience package to governments in the coming days which will focus on protecting the supply chain, jobs and our ability to continue to reposition ourselves for the future."
As Coronavirus lockdowns continue around the world, the oil industry faces serious challenges to demand and supply chains resulting in the collapse of many prices and margins. With restrictions to travel and broader economic activity across the world, demand for transport fuels has dropped resulting in a twofold challenge, a drop in oil's value and a consequential price war.
A deal announced last week between Opec and its peers to cut production by about 10 million barrels per day from May appears not to have been enough to convince markets that supply lines weren't being flooded. The agreement was viewed as "too little and too late to avoid breaching storage capacity and to stop spot prices from falling"
Professor David Elmes, who leads the Global Energy Research Network at Warwick Business School and has more than 20 years' experience in the energy and management consulting industries, said:
"The fact that oil prices have sunk to a level not seen since 2002 will set alarm bells ringing. It's not just the price per barrel, it's the wider challenges facing the industry.
"The battle to supply, whatever the price, is happening in a climate of both short-term and long-term decline in the demand for oil.
"We are starting to see how the coronavirus is reducing oil demand, but some industry forecasts were acknowledging a flattening off in long-term demand last year, before the pandemic began.
"All companies in the sector will be looking at how they can cut costs, shift their activities to the lowest cost field they can, trim investment, and thinking hard about what dividend they can pay.
"There will also be more serious conversations taking place.
"State-owned oil companies around the world will be having tense discussions with their governments about how long they can expect government sympathy for low prices. That will be made more difficult by governments needing to pump money into their economies to address the slowdown caused by coronavirus.
"The European-based large, international companies have started to say they will become less focused on oil and gas over time. There will be intense discussions on what can they do to move faster."