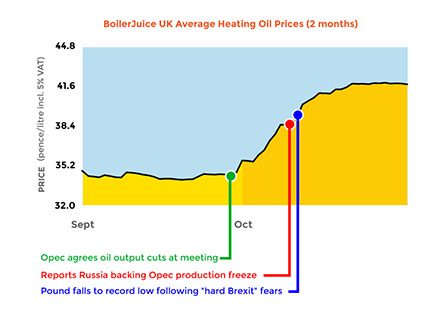 Rising from an average of 34.40ppl including VAT in September to 39.90ppl in October, UK heating oil prices have risen 16% –  the steepest increase since the winter of 2010.  Based on the UK average, this increase could see the cost of 1,000 litres rise to £399, an additional £55 since September.
"Whilst the recent price rise has been dramatic, heating oil still represents the cheapest form of energy available particularly after the historic price lows earlier this year," reports Boilerjuice CEO Ian Ronald.
"Over the same period, the price of crude increased by 8.5%, including a one year high of $53.29 per barrel on 10th October. This is widely believed to be the most significant factor affecting heating oil prices.
"Prices have soared due to recent world events – the weakened pound Sterling following the UK referendum result; and speculation that many major oil producers, in particular Russia, were open to striking a deal with OPEC to reduce oil output.
"Considering that heating oil prices increased sharply following speculation around the last OPEC meeting where the organisation reached an 'agreement to agree', it is reasonable to assume that prices could increase further before the next OPEC meeting takes place on 30th November.  Many traders have speculated prices rising above $65 per barrel in 2017.
"We do recognise times are uncertain for heating oil users, and Boilerjuice will continue to work hard for customers to provide the best price, service and convenience through our nationwide network of selected local suppliers."