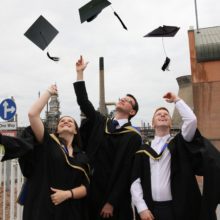 Designed with refining industry in mind, the initiative between Petroineos, Heriot-Watt University and Forth Valley College began in 2008. The 5-year company sponsored training programme, Engineers of the Future, was the first of its kind in Scotland.
The initial programme saw the development of a bespoke training route that would deliver 'work ready' graduates. Petroineos sponsored students, Jennifer Prentice, Duncan Paterson and Mark Skilton attended Forth Valley College for academic training, before progressing on to Heriot-Watt University to complete their studies.
Hands-on practical experience was gained throughout the five years in the workplace. Working alongside experienced employees the students became familiar with site processes and manufacturing plants.
Mark Skilton joins Petroineos as a graduate mechanical engineer, whilst Duncan Paterson will be employed as a graduate chemical engineer and Jennifer Prentice takes up a role in operations.
Gordon Grant, director Petroineos Grangemouth, said: "The programme was introduced to produce work ready graduates on day one. The quality of the three graduates this year shows clearly that this has been fully achieved. This first cohort of graduates from the course has set the bar very high and we are delighted to welcome them into full-time employment."