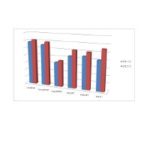 In the first quarter of 2013 oil boiler sales increased by 22% compared to last year.
Sales at the end of 2012 also showed an improvement on the previous year. Commenting on the news, OFTEC director general, Jeremy Hawksley said: "Most boiler sales are distress purchases and the healthy results are due partly to the cold weather the UK has experienced this winter. However, it also underlines the public's continued enthusiasm for oil heating and the fact that upgrading to a modern oil condensing boiler will bring an immediate saving in heating costs. This is by far the simplest and most cost-effective change that existing oil heating users can make".
OFTEC is promoting the benefits of oil heating to rural households with Oilsave leaflets and flyers. The flyer offers homeowners a booklet about energy efficiency which is available FREE from OFTEC.