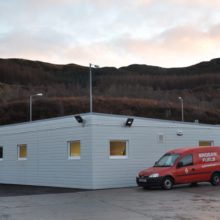 Established 86 years ago, Brogan Fuels is the main kerosene heating oil supplier in Scotland. Now under the guidance of area manager, Scott Wilson, the entire Oban depot has been upgraded with a new office block providing a professional working environment for the company's ten staff and a modern, pleasant place for customers to purchase fuel.

Scott, who has worked for the company for 15 years, commented: "We decided to refurbish the depot in Oban as the location is a hub for our customers on the west coast of Scotland. We've been here for a number of years now and I'm proud to see how the business has developed."

The depot provides a key support function for the Oban community by servicing commercial, agricultural and domestic customers in the region with road diesel, gas oil, heating oil and a full range of Shell and Total lubricants. It also stocks Harlequin oil & water tanks. Although focussed on the Oban area, the depot has the ability to reach Brogan Fuels customers throughout Argyll and the Islands.

The Oban depot can be reached on 01631 570670.
www.brogans.co.uk