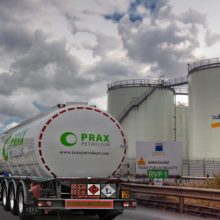 In addition to both supplementing and complementing established oil company facilities, public storage contributes to the enhancement of our overall security and continuity of product supply; particularly now against a background of rationalisation of refinery and terminal networks. It also –
Supports the growing downstream presence of traders and independent importers/wholesalers, effectively lowering barriers to entry in the downstream market
Helps to address regional product imbalances by providing a key link for increasing international movements/entrepot trade in refined products
Provides physical storage to help to meet compulsory stock obligations
Leads in the development of facilities to store and handle biofuels
Changing fortunes

Recent years have seen a sharp and sustained upturn in public storage's fortunes.

Back in the 1970/80s – in the days before international integrated oil companies began rationalising their downstream refining and logistics assets – times were difficult for those providing independent storage facilities.

Rapid growth in oil demand in developing countries was still to manifest itself in earnest, and the emergence of significant regional imbalances in product supply and demand had yet to take place.

Today, most facilities around the world are experiencing capacity utilisation levels in excess of 90%; many existing facilities have undergone expansions in capacity. New facilities are appearing in China and Malaysia whilst in Amsterdam, the Hydrocarbon Hotel is a new 140,000M3 joint venture between North Sea Group and Blue Ocean Associates.

The public storage facilities initially established in locations with substantial refining hubs, still dominate. In Europe, we have Amsterdam, Rotterdam and Antwerp (ARA), Asia has Singapore and in North America, public storage is concentrated along the Gulf Coast.

Public storage in the UK

Here, public storage complexes are located in three main clusters; unsurprisingly all located down the east coast for ease of access to/from north west Europe and reflecting proximity to refining hubs.

Thames

Grays

Vopak and Nustar

Dagenham

Norbert Dentressangle – recently acquired by Stolt-Nielsen to become a Stolthaven terminal

Canvey Island

Oikos with access to the UKOP and GPSS pipeline systems.

Once, there were three refineries on the Thames– BP on the Isle of Grain which closed in 1981, Shell's Shellhaven closed in 2000 and Coryton, owned by Mobil, BP and latterly Petroplus which closed this year.

Immingham

One facility owned by Simon Storage. Comprising a West and East complex operated by the Immingham Storage Company with connections to the Total and Phillips 66 refineries at nearby Killingholme and into the GPSS pipeline network.

Teesside

Seal Sands

Vopak and Simon Storage

Teesside had two refineries – Shell, closed in 1989 and Phillips, latterly Petroplus, closed in 2010.

The increasing fragmentation of the downstream sector, continuing refinery rationalisation in Europe and the growth in international trade/movement in finished products, along with increased use of biofuels, will provide support for the buoyant conditions experienced in recent years by the public storage sector. It will continue to have a key, and probably a growing role to play, in the downstream supply chain; so the future is bright!