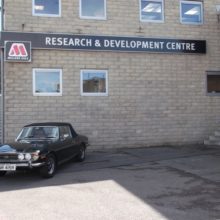 Millers Oils officially opened its state of the art Research and Development (R&D) centre in Brighouse, Yorkshire, last month.

Millers, which has been supplying lubricants that help save energy for 125 years, has invested more than £500,000 in the new facility, providing it with the capability to develop low friction oils that set new standards for efficiency.

"The new R&D centre is essential to ensure we continue the steep growth we have experienced for the last decade," said Nevil Hall, joint managing director of Millers Oils. "As a relatively small company it is important that we develop innovative solutions to meet the challenges our customers face."

The company was recognised for its commercial success in 2012 with a Queen's Award forEnterprise: International Trade.

Through products like the revolutionary Nanodrive oils, efficiency-boosting Solform gel and independently endorsed VSPe fuel additives, the company has built its reputation, while almost trebling its turnover in the last 11 years.

While motorsport users of Nanodrive oils have reported power increases of up to 5.6 percent, the technology is set to reduce fuel bills by up to 2.5 percent for the everyday motorist.

Underlining the value of motorsport, both for development and exposure, Millers Oils has extended its support for Callum Black, British Rally Championship driver.
A full report on the company's 2012 successes and celebrations is in the October issue of Fuel Oil News.