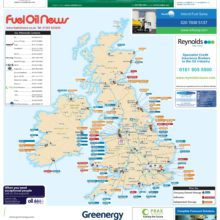 Coming just a few years after fuel supplies were almost totally paralysed during fuel price protests in September 2000, these events prompted a heightened awareness of the importance of an infrastructure that is essential to the wider economy and, indeed, everyone's daily life.

In government circles, this heightened awareness resulted in the setting up of the Downstream Oil Industry Forum. A forum charged with addressing the diverse challenges faced by the downstream sector, and, in particular, improving the resilience of both the physical infrastructure and the security and continuity of supply.

Commissioned by the Department for Energy and Climate Change (DECC), three separate reports on the subject have been undertaken by WoodMackenzie, Deloitte, and Purvin & Gertz.

v UKdownstream oil infrastructure

v Downstream oil – short term resilience and longer term security of supply

v Developments in the international downstream oil markets and their drivers: Implications for theUKrefining sector

The above reports can be downloaded at www.decc.gov.uk

The refinery network

Following the closures of Petroplus' Teesside facility in 2009 and Coryton in June this year, the UK now has 7 operating refineries. From the start of 2005 only the twoHumberrefineries and Fawley are under their original ownership.

Since the last refinery – Murco's Milford Haven – was commissioned in 1973, refinery numbers have progressively declined – from 18 with a total distillation capacity of 132 million metric tonnes (mt) to 7 with a total capacity of 77 million mt.

In the 1970s/80s refineries invested in fluid catalytic cracking capacity to upgrade surplus fuel oil into petrol; then the chosen motoring fuel*. The next two decades saw the introduction of more stringent specifications for clean fuels and a need for refineries to invest to ensure compliance.

Prior to the recent Coryton shut-down, around two thirds of refinery production was delivered to the inland market with approximately 80 % of the crude oil feedstock being sourced from theUKand Norwegian sectors of theNorth Sea.

Refinery challenges

Poor profitability conditions in refining have been evident since 2008 and will continue, with no prospect of improvement expected, for another two to three years.

*UK refineries now have excess petrol production capacity and a shortfall for middle distillate grades. Finding outlets for this petrol surplus will become an increasing challenge.

UK and European refiners face increased competition from Asian and Middle Eastern export refineries. From January 2013, they will also face additional costs associated with the requirement to comply with the EU Emissions Trading Scheme; additional costs not being borne by Asian and Middle Eastern competition.

Bulk product movements – by pipeline

Over half of all bulk movements are made on the oil company owned pipeline network.

UKOP links the Thames and Mersey refineries, serving theMidlands (Kingsbury) and Buncefield

Esso Pipeline System serves West London (Heathrow), Purfleet (Gatwick), Avonmouth and theMidlands (Bromford) from Fawley

Mainline serves the Midlands (Kingsbury) andNorth West (Manchester) from Pembroke and Milford Haven

Finaline services Buncefield (Heathrow) from Lindsey; currently restricted to Jet A-1

Two aviation systems feed Heathrow and Gatwick airports from Buncefield and Walton terminals

Originally commissioned before World War II, the government pipeline system is primarily a strategic defence facility used to supply military JetA-1; it also supplies Heathrow (from Avonmouth by Q8 Petroleum) and Stansted airports. Third party commercial use is limited to Killingholme to Bramhall in south Manchester. Former road loading terminals at Blackmoor, Hallen and Aldermaston are no longer in third party commercial use.

– by rail

Rail movements account for 15% of bulk movements.
Humber to Warwickshire Oil Storage (Kingsbury)
Humber to Jarrow
Milford Haven to Westerleigh, Theale and Bedworth (Murco)
Grangemouth to Dalston, Cumbria
DB Shenker, which acquired EWS, is the main freight train operator in this sector, with Freightliner also represented.

– by coaster

Coasters move between 3000-20,000 mt of product. While both Shell and BP still operate marine tanker fleets, the principal operator is James Fisher & Sons. The latter, has a fleet of 18 tankers ranging in size from 3500-13,000 DWT and carries over 8 million mt to UK-wide locations each year.

Rationalisation at storage and distribution terminals

Coryton looks set to join the 50 distribution terminals which currently serve theUKinland market, after Shell, Greenergy and Vopak announced a joint venture to convert the refinery into an import and storage facility.

The changing trends affecting the refinery network over the past 30 years, have also been in evidence at storage terminals. As various players have rationalised their geographic market presence, numbers have shrunk with fewer, larger locations covering the market.

There has been a clear trend towards retreating to refineries as key distribution points. In part, this was driven by the outcome of the Oil Warehouse Review in 1985 and enactment of legislation that moved the excise duty liability from terminal to refinery gate.

The reduction in mainline distribution points is exemplified in the following regions:

Manchester/Mersey conurbation – 13 down to 4

Yorkshire- 6 to 0

East Anglia- 6 to one for high flash products only

Through all this change, the system's resilience has been a continuing source of reassurance. Ample testimony of its resilience was provided by its adaptation to the loss of the key Buncefield facility, almost seven years ago.

Following the cessation of crude oil processing operations at Coryton, the infrastructure's robustness may well be tested once again. Readers' views as to resilience are invited – jane@fueloilnews.co.uk.