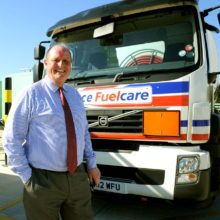 Keith, who has lived much of his life in the local area, brings a wealth of business experience to the role, having held several senior managerial positions with companies such as ICI, Burmah – Castol and Total. Keith joined GB Oils two years ago.

His primary objective in his new role will be to stimulate organic growth and elevate the Pace brand to become the first choice for customers across the region. The area includes oil distribution depots in Shefford, Letchworth, Cambridge, Braintree, and Hadleigh, plus the newly constructed multi million pound terminal in Ipswich.

Simon Willis, general manager at GB Oils, commented: "Keith's appointment to manage the business in south east Anglia comes following his successful work for the company during the past two years. We have no doubt that he will be fantastic in this new role and will help deliver our ambitious plans for the new depot and wider area."

Keith added: "As well as providing competitive pricing and continuous improvements to services, my aim is to ensure we continue to deliver exceptional standards of customer satisfaction, whilst remaining at the forefront of fuel distribution, both within east Anglia, and throughout the UK".