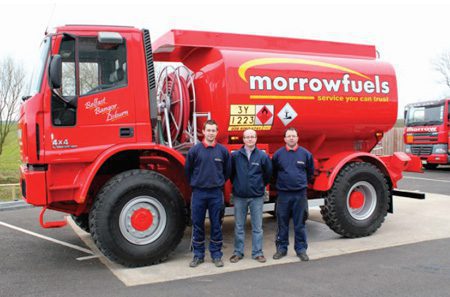 Next year, the Morrow family celebrates 100 years of oil retailing in Lisburn, Northern Ireland. And throughout the decades, the business, which eventually became Morrow Fuels, has proudly guarded its family ownership and has striven to live up to its long-established reputation – to go the extra mile to meet customers' needs; Peter Clayton reports
"Oil retailing has been in the family since1913, when Colin Morrow's great aunt sold paraffin from her village shop for lamps and heaters," says a member of the most recent generation of Morrows to run the business, Jonny. "Her shop was in the exact location still used today as Morrow Fuels' main depot – at Gravelhill Road, Maze."
Colin Morrow originally began as an engineer, manufacturing steel oil tanks for the domestic heating market. He saw his natural progression as moving more into the oil market, and bought his first distribution tanker in 1988. As the company became established, Colin's wife Joan and their three sons – Jonathan (Jonny), Simon and Phillip – all joined the business.
"Because of the housing boom during the 1990s, we enjoyed rapid growth and steadily grew our tanker fleet from one in 1988 to 11 in 2012," adds Jonny.
The most recent addition to the Morrow fleet is a specially designed 4×4 tanker which can cope with the extremes of weather, and the very worst of terrain.
"Last year's extreme weather caused so many people in Northern Ireland to go without oil," explains Jonny.  "Houses off the beaten track stayed cold as regular oil tankers just couldn't get to them. This meant many people had very little heating during one of the coldest winters we have seen in years."
It was this – combined with the company motto – which prompted Morrow Fuels to invest in their new custom-built vehicle which, claims Jonny, allows the company to deliver fuels whatever the weather and regardless of challenging landscapes.
A convertible oil tanker?
"When we had a press launch for the new truck, with the tagline 'service you can trust', we had a great response from the public and customers alike. Of course, Murphy's Law would have it that Northern Ireland has had virtually no snow or ice this winter, and has even experienced record high temperatures for February! So for next year, the Morrow boys are thinking about building a convertible oil tanker!" jokes Jonny.
As is shown by this latest vehicle, the Morrow family know their tankers. In fact, to complement the rest of the business, Morrow Fuels diversified into tanker building some 20 years ago when it became apparent to the family that there was an urgent need for quality built oil tankers in the principality, in fact they were the first company in Northern Ireland to build their own tanker barrels from scratch. This part of the business has recently enjoyed a record number of sales, and Jonny – an engineer by background – is looking forward to another good year. Just about to go live is their new website
www.morrowtankerservices.com.
As distributors, Morrow Fuels operates within a 30 mile radius of its main depot at Maze, close to Lisburn, with satellite depots in Belfast and Bangor. Around 80% of company business is supplying domestic customers. The remaining 20% is split evenly between agricultural and commercial customers.
The state of the industry
Asked about how he perceives the current fuel distribution industry in Northern Ireland, a thoughtful Jonny replied: "The biggest problem we can see with the current market is that anyone can buy a tanker for around £5000. Along with a pay-as-you-go mobile phone, they can start an oil distribution business – undercutting rates and poaching valued customers."
Jonny is convinced that the Irish distribution industry is currently going through its hardest period of trading for decades. "Seasonal temperatures are too high, oil prices are still rising, and the economy is struggling more than ever," he says.  "Added to this, margins are getting tighter and tighter, vehicle fuel and insurance costs are all on the up, and more and more one-man-band operators are getting into the business with little or no knowledge of the industry.
"But on a brighter note," he concludes, "We're still experiencing some growth… not on the scale it once was, but in a diminishing market, threatened by natural gas and renewable energies, any growth at all has to be considered good. We find that, although customers always want cheaper and cheaper fuel, they still appreciate a good quality product and 'service you can trust'…  after all, we do go the extra mile to meet their needs."