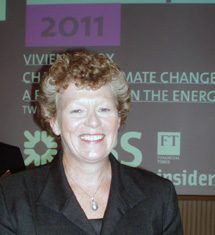 Now chairman of Climate Change Capital, Vivienne Cox, who retired from BP in 2009 after 28 years, was guest speaker in the Vital Topics series at the University of Manchester's Business School; Fuel Oil News listened to her perspective on the energy markets
Oil and gas – mispricing risk
Although disagreeing with the peak oil theory, Vivienne sees oil's role in the future energy mix becoming less important – especially as gas production – $54 cheaper than a barrel of oil – and backed up by new sources of shale gas, is growing. Oil still has a reserve to production ratio of around 40-50 years; most oil wells have only had 50% of their contents extracted and technology exists to extract more but – going deeper, hotter and sourer comes with risk – a risk that Vivienne says the world has been significantly mispricing.
For some time, the world has been deluding itself as to what energy should cost.  With huge political risk attached to energy production, project development gets harder – low cost oil production in Libya quickly went to no cost in the Arab spring; shale extraction attracts complaints and lawsuits; the cost of Shell's long delayed gas to liquid plant in Quatar went from $5 to $19 billion dollars; Finland's nuclear program is 60% over budget and 5 years late. As the financial markets have already found to their cost, mispricing risk is dangerous. Vivienne also highlights public backlash as another mispriced risk.
Risk and volatility comes with oil production in Saudi Arabia, Iraq, Iran, Kuwait and Venezuela.  Plus 17% of energy supplies pass through a narrow stretch of water governed by repressive dictators – can we continue to rely on energy from such sources?
As economies grow, access to energy will be demanded as a fundamental right.  China accounts for 20% of global energy demand; global energy consumption has risen by 6% as a result of its CO2 intensive industries. Is it sustainable for  global energy use to continue to increase?
Will there be an increasing role for renewables in the future energy mix?
As executive vice president of BP's gas, power and renewables division, Vivienne created BP Alternative Energy to focus on solar, wind, biofuels and carbon sequestration and storage.  Asked why she had created a renewable business within an oil company, she pointed out that BP is an energy company and energy is shifting. If oil companies were to be more involved, it could facilitate a shift to renewables.  In a difficult investment climate, backing for sustainability is much lower and with long pay backs on projects, investors need very deep pockets.
Seven years ago, Vivienne was 'very optimistic' about a renewable future but although the use of renewable energy has tripled in 10 years, the sector remains very small.   Even allowing for annual growth of 20% over 10 years, renewables would still only account for just 10% of our total energy mix; a figure insufficient to combat CO2 emissions.  Plus, in common with older energies, consistency of politics and consumer acceptance also inhibit further growth.
Security of energy supply will be the biggest incentive to adding more renewables to the energy mix.  China will 'leap frog the west' in both technological advances for conventional fuel and renewables; the country is already very active in wind, solar PV and in cleaning up its coal generation.  As China has little proven reserves of oil, the driver for such technological advances will be the country's energy security and its air quality.
With access to both oil and gas, the US does not have a highly developed renewables sector although Vivienne expects a greater focus on wind power.  In the UK, tidal wave offers 'promising technology'.  Good biofuels do make a difference, with the carbon footprint of cane-based ethanol being lower.  Airlines have shown a willingness to adopt bio-aviation fuels but with very small margins, will higher cost fuels and higher costs flights be acceptable?
Achieving renewable production on a global scale will be very hard to achieve but many opportunities exist for smaller companies offering microgeneration.
Reducing CO2 emissions
The much-hyped Copenhagen climate change talks in 2009 highlighted that a global agreement to reduce CO2 emissions was 'unlikely'.   Believing it is too late to stop temperature rises, Vivienne says we must accept CO2 emissions and adapt to climate change by reducing energy demand and raising efficiency. To mitigate against the issue of environmental migrants forced to flee rising water levels and hotter temperatures, the world must help. In Vietnam, mangrove swamps have already been created to help combat rising sea levels.
Solutions to a massive problem
Concluding that global energy provision was a 'massive problem', which will necessitate investigation into every emerging technology to help find solutions, Vivienne said the inclusion of nuclear in the energy mix was essential.
Asked by Fuel Oil News what skills would help better secure our energy future, Vivienne replied 'communication.'  The energy industry is largely run by engineers who can't communicate.  Whilst engineers and scientists will still be required, people who possess skills to better inform the public – perhaps social anthropologists – and raise their perception of the energy industry are definitely needed.