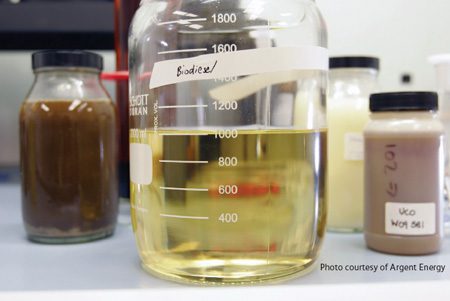 In December 2009, as the legislative framework shaping biofuels was about to change, FON reported on problems and issues affecting the industry. Two years on, we take a look at how things have changed. "Looking back at the original article, what strikes me is that in some ways biofuels have changed a lot; in some ways they're exactly the same, " says Mabanaft's biofuels' manager, Robin Lloyd 
The legal background
The Renewable Transport Fuels Obligation (RTFO) came into force in April 2008, placing an obligation on fuel suppliers to ensure that a certain percentage of their total sales was from biofuels.  RTFO stipulated that by 2010, 5% of all UK fuel sold on UK forecourts had to come from a renewable source. RTFO was subsequently changed in 2009 to slow down targets because of concerns about the effects of indirect land use change (ILUC). The targets for the biofuel content of road fuels are now 4% by 2011/2012, rising to 5% by 2013/14.
The law – where are we now?
At the time of writing, the government had just published responses to the consultation of the Renewable Energy Directive (RED) implementation and published the consultation on the Carbon and Sustainability Guidance. Additionally it re-iterated its intention to implement RED on 15th December 2011.  "Whilst the adoption of RED will make no change in th e short term to obligation levels, it will mandate minimum sustainability and verification requirements, with significantly greater penalties for non-compliance," says Robin Lloyd. "Longer term, RED commits the UK to achieve a 10% share, by energy, of road fuel to be obtained from renewable energy."
The Department for Transport (DfT) consulted on how to transpose RED and the Fuel Quality Directive (FQD) into UK law between March and June this year. The results of these consultations and therefore the final shape of the amended RTFO and regulations to implement FQD, have yet to be published. The new RTFO will have to be considered by parliament, in a procedure that will take 40 working days.
One element of RED that will not appear in the amended RTFO will be the proposed trajectory of interim targets from 5% by volume in 2013/14, to 10% by energy in 2020. FQD does not stipulate any interim targets and for the moment, at least, fuel suppliers will only have to meet the 6% reduction in greenhouse gas (GHG) emissions by 2020. However, the DfT proposes to consult again on possible trajectories in 2012; revised legislation will not be ready until 2013.
Clare Wenner, the Renewable Energy Association's head of renewable transport believes: "The delay in implementing policy designed to de-carbonise the transport sector has had a negative effect on investors who require much greater certainty and policy longevity. Nevertheless, the UK produces some of the most sustainable biofuels in Europe and the government should be encouraging new green investment and jobs in these difficult economic times."
James Palmer, PhD candidate, department of geography, University of Cambridge, agrees: "Legislatively speaking, the UK's existing biofuels policy is certainly complex and has been argued to provide little or no long-term reassurance to potential investors, particularly beyond 2014."
Sustainability
Sustainability is a big issue, not just in the UK but across the world. James Palmer comments: "Uncertainties which exist over the true sustainability of prevailing biofuel production techniques are vast, and indeed will probably never be fully resolved. The issue of ILUC is a case in point here.  For starters, it's simply not possible to say for certain where this process will occur.  Even then, there are myriad uncertainties and complexities involved in determining what the magnitude of those impacts, not just upon GHG emissions, but upon environmental and social sustainability at large, might be."
Harvest Energy produces biodiesel at the company's 250,000 metric tonnes per year capacity plant on the Seal Sands chemical complex in Teesside. The plant focuses on processing recovered oils and fats, plus associated by-products such as glycerine, which helps to reduce conflict with feedstock users and gives better GHG saving performance. The very latest technology has been optimised to ensure the plant delivers maximum yield, minimum waste streams and low energy consumption.
The company, which is continually developing closer links with feedstock and biofuel suppliers, does not currently use any palm oil products in the manufacture of its biodiesel. Additionally, Harvest Energy has developed and runs verifiable systems to track the origin and sustainability criteria of its products. The most recently published Renewable Fuels Agency (2010) annual report places Harvest Energy in the top quartile, in relation to biofuel greenhouse gas savings.
Waste-to-energy biodiesel producer, Argent Energy is also committed to sustainability. Development director, Dickon Posnett believes: "If you produce a high quality and sustainable biofuel, then demand is strong.  Demand is largely driven by legislation although firms are increasingly looking to reduce carbon emissions.  For heavy users of transport fuel*, a simple switch from fossil fuel to one with a high percentage of biodiesel can make a big carbon saving. And that's a goal we're finding more managers targeting. While this legislative activity is making slow progress in the UK, the European Commission has been tasked with producing a report and proposals to manage the effects of ILUC."
Production
"There've been setbacks for UK producers targeting the road fuel market," explains Richard Crowhurst, managing director of market analysts Enagri. "The year started badly for Vivergo Fuels (a joint venture between AB Sugar, BP and Dupont) when it fell out with contractor Redhall Group over delays to the construction of its biorefinery at Saltend, near Hull. The ongoing dispute over liability did little to instil confidence in UK project development and, it's been confirmed that the Vivergo project will not be processing wheat until 2012.  Shortly after this, Teesside-based Ensus announced that it was shutting its plant due to poor economics and a depressed market. At the time of writing the plant remains closed despite the conclusion of the UK wheat harvest."
Processing significant quantities of waste oil at its production plant in Immingham is Greenergy.  Whilst early 2010 saw a number of challenges, the company has since achieved a more reliable operation and production levels have increased.
Quality
Soon after the widespread adoption of biofuel, issues over product quality – waxing and microbiological contamination – arose. "Waxing problems were generally solved by attention to feedstocks and tightening of purchase specifications," explains Robin Lloyd. "The microbiological concerns would also now appear to be under control, with responsible blenders employing a routine of tank monitoring, water draining and use of biocide, only as part of a wider tank cleaning regime.
"It would be unwise to assume that product quality is something we no longer need to be vigilant about, as biofuels are still relatively new and there's always opportunity for surprises. During the quality concerns on FAME/diesel, concerns over ethanol were low profile and little, if any, attention was given to its performance in the supply chain.  More attention is now being given to ethanol, particularly with the ongoing discussion on when EN228 will move the maximum ethanol blend level from 5% to 10%. The key concerns with storing higher ethanol  blends are corrosion and the compatibility with seals."
Alternatives – used cooking oil and algae
With concerns over the rising prices, profitability and sustainability of turning virgin vegetable oils into biodiesel, producers are looking to maximise access to lower cost alternative resources; in particular, used cooking oil (UCO) is growing in popularity.  Firms such as Greenergy, which has a large biodiesel biorefinery on Humberside, are extracting fats from stale or damaged pork pies, crisps, cakes and dairy products.
Dr Geraint  Evans, head of biofuels and bioenergy at the National Centre for Biorenewable Energy, Fuels and Materials said: "The use of UCO for producing biodiesel has grown rapidly over the last year; currently around 42% of the UK's biodiesel is produced from it.  However, to meet future targets additional sustainable resources will be needed, particularly to make fuel to use in place of diesel fuel types which are used across all transport sectors".
Recently, a recycled truck made from trash and powered by cleaned UCO, completed a two-year round-the-world journey. Andy Pag built the truck out of an old school bus and converted the engine to run on waste cooking oil, installing a filtering system and large tank under the bed.
Another alternative may be microalgae – under research in the UK and worldwide.  Dr  Evans believes it has potential, but warns that costs are currently high and there are still tens of thousands of species to be examined. "Microalgae are more challenging to grow in the UK. It needs the right conditions and costs of production are high.  We think that algae will be firstly developed to make high value products and that we may not see any strong progress in the use of algae for fuels before 2030."
Leading research in the UK are institutes such as the Scottish Association for Marine Science which is involved in several major European projects looking at algae as a source of fuel, energy and high value chemicals and Cranfield University which has undertaken a pioneering project, growing algae in the North Sea. The project aims to use algae to produce aviation fuel. At the University of Bath, students are looking for ways to make the production of biodiesel from algae commercially viable. Studying the unique algae growing in the city's Roman baths may make large-scale biofuel production a real possibility.
The future
"A running theme for biofuels is that the only certainty is uncertainty," says Mabanaft's Robin Lloyd.  "Markets continue to be volatile and views on benefits and concerns are forever changing (evolving?). What continues to be certain though is that Europe has mandated biofuels to 2020 – at least, and that obligation levels and the level evidence of sustainability will continue to increase."
Enagri's Richard Crowhurst echoes this view: "Overall, the outlook for bioliquids and biofuels appears mixed.  Most technical issues have been overcome but, the economics remain marginal at best, especially while the outlook for grain, sugar and oil-crops continues to be bullish. The market outlook has not been helped by the loss of previous tax breaks on fuel duty and the slow adoption of biofuel targets under RED. Politically, biofuels remain a hot potato, with considerable uncertainty over the science of direct emission comparisons and indirect land use. While there are some valiant companies continuing to develop projects, funding is easier to come by for other bioenergy sectors such as solid biomass and anaerobic digestion."
 *EAE is using Argent Energy fuel to help reduce CO2 emissions.  The Scottish leaflet market specialist is running seven Citroen Relay vans on a B30 biodiesel blend and is planning to switch its 21-strong fleet to the fuel by the end of 2012, saving 80 tonnes of CO2 emissions annually. EAE aims to be carbon neutral by 2015. 
Glossary
FQD –  Fuel Quality Directive
GHG – Greenhouse Gas
ILUC – Indirect Land Use Change
RED –  Renewable Energy Directive
RTFO – Renewable Transport Fuels Obligation
UCO – Used cooking oil