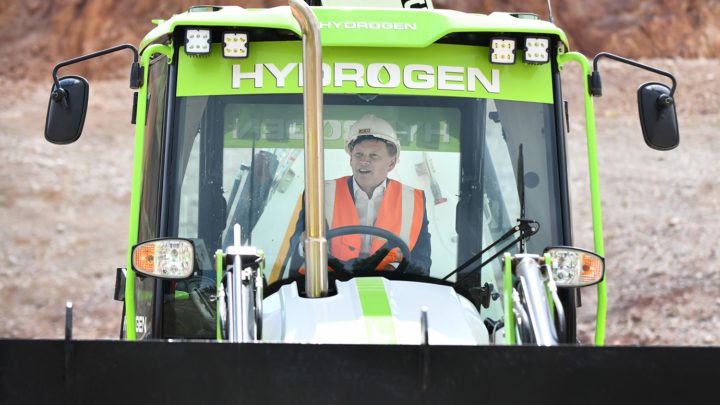 Mr Shapps was hosted by JCB Chairman Lord Bamford and JCB CEO Graeme Macdonald, on a visit to JCB Power Systems in Derbyshire, to see the progress a team of more than 150 engineers have made in developing hi-tech hydrogen combustion engines for use in construction and agricultural machinery. More than 50 prototype engines have been produced so far and several machines are currently undergoing testing.
EV unsuitable
The Secretary of State for Energy Security and Net Zero commented: "This is a unique prospect that works well, and I've challenged JCB by the middle of next year – by 2024 – to be operating some of these on our roads and on construction sites. And JCB told me that it will be happy to try and achieve that objective, and good luck to them!"
Informed of JCB's success in launching a range of battery-electric compact machines, Mr Shapps was also shown how current battery-electric technology is largely unsuitable for heavier equipment due to higher energy demands, and longer working hours in locations where access to grid connections is often limited.
Trying his hand at the quick and easy task of refuelling a prototype hydrogen-powered JCB backhoe loader, the Energy Secretary added: "JCB operates in two fundamentally quite difficult areas to decarbonise: construction and agriculture. I have to say they're making decarbonisation look easy, and I've been very impressed with what I've seen."
A zero-carbon solution
Lord Bamford said: "It was a pleasure to show the Secretary of State the great progress JCB's British engineers are making in developing a zero-carbon solution to power our future machines. They need to be powered by something other than fossil fuels in the future and super-efficient, affordable, high-tech hydrogen combustion engines with zero emissions can be answer for the construction industry and agriculture.
"What's more, they can be brought to market quickly using our existing supply base."