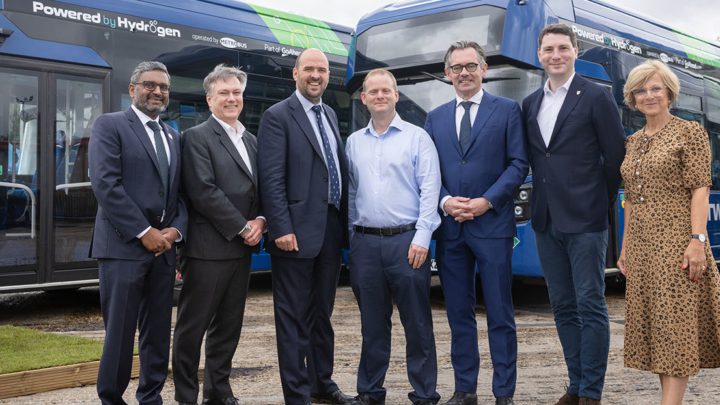 The Go-Ahead Group, one of Britain's leading bus and rail operators, has launched a pioneering fleet of hydrogen fuel cell buses to carry passengers on routes in the Gatwick Airport, Crawley and Horley area.
A further 34 vehicles will join the fleet over the next 18 months to create one of Britain's largest hydrogen bus fleets. It will be served by a liquid hydrogen refuelling station which will be the largest of its kind in Europe once it reaches full capacity and will be capable of providing sufficient fuel for over 100 buses per day.
The zero emission buses are able to cover long ranges and carry heavy loads, making them ideal for local routes around Gatwick that are intensively used – operating 24 hours a day, 365 days a year.
First hydrogen buses
The single-decker GB Kite Hydroliner buses, manufactured by Wrightbus, are the first hydrogen powered vehicles in Go-Ahead's fleet of more than 6,000 buses. Hydrogen will be stored at the Metrobus Crawley depot in liquid form, before being converted to gas held in tanks on the roof of vehicles.
Richard Holden, minister for roads and local transport, speaking at the launch, said:"Communities and commuters across the country know how important buses are – and these UK-made hydrogen buses could revolutionise transport for millions, bringing quieter and smoother journeys.
"It is great to see these 20 new hydrogen buses on our roads, one of the largest fleets in the UK, backed by over £4.3m of funding from our Ultra-Low Emission Bus scheme. With nearly 3,400 Zero Emission Buses funded across the UK since February 2020, this latest fleet puts us well on the way to meeting our target of 4,000 ZEBs."
Ed Wills, managing director for Brighton & Hove and Metrobus said"I am delighted to introduce 20 new hydrogen buses to our Metrobus fleet and a liquid hydrogen refuelling station, which, once fully commissioned will be the largest of its kind in Europe."
Christian Schreyer, Group chief executive, The Go-Ahead Group, commented: "We believe hydrogen is a further piece in the jigsaw of decarbonising public transport."
Decarbonising public transport with green hydrogen
The liquid hydrogen refuelling station is owned and operated by Air Products and will be supplied with green hydrogen produced in Immingham. UK Director of hydrogen for mobility for the industrial gas company, Manish Patel, commented: "We are proud to be part of this exciting project, where we intend to deliver green hydrogen from imported renewable energy sources such as the NEOM Green Hydrogen project, where there's an abundance of sun and wind. The project is an excellent example of companies collaborating and pioneering in the energy transition space.
"Together, we are making the decarbonisation of public transport a reality."