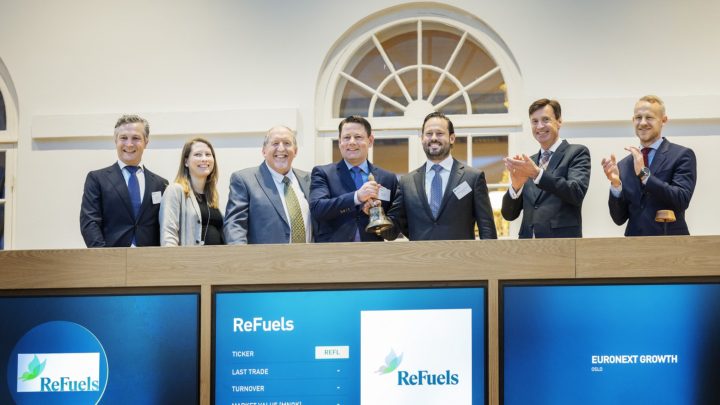 An integrated supplier of alternative fuels for heavy goods vehicles, ReFuels supplies 100 percent renewable and sustainable biomethane sourced from waste products through a UK-wide network of public-access refuelling infrastructure under the brand CNG Fuels.
The company aims to have 30-40 stations in operation by the end of 2025 and is supported by more than 80 individual customer fleets, including Amazon, Royal Mail, DHL, Lidl and Aldi. ReFuels is engaged across the entire bio-CNG value chain, including biomethane sourcing and trading of Renewable Transport Fuel Certificates (RTFC).
Ambitious expansion plans
The listing has been described as a crucial step in realising the company's expansion ambitions and has raised NOK 53.2 million – a market capitalisation of approximately NOK 1.5 billion (£113bn).
In April 2023, ReFuels successfully completed a private placement of NOK 53.2 million at NOK 24.84 per share. For each share allocated in the private placement, the investors will receive three (3) warrants. Each warrant gives the right to subscribe for one new share at NOK 24.84 per share, and the warrants shall be valid for a period of 24 months following the settlement in the private placement. The warrants will not be admitted to trading on Euronext Growth Oslo or any other marketplace.
Milestone
Oslo Børs, part of the Euronext Group, has congratulated ReFuels, a company with the heart of its operations in the UK, on its admission which reinforces Euronext's increasing appeal to international issuers and solidifies Oslo Børs' position as one of the leading venues in Europe for cleantech companies.
Philip Fjeld, CEO of ReFuels said: "Our admission to trading on Euronext Growth Oslo marks a significant milestone for ReFuels and is a crucial step in realising our ambitions. We are excited to continue expanding our network of bio-CNG refuelling infrastructure, enabling the rapid transition to net-zero trucking and supporting our customers in their efforts to reduce greenhouse gas emissions. Through the listing, we widen the investor base and strengthen the platform for financing of our long-term growth strategy."
Image shows: Philip Fjeld, CEO at ReFuels, and Baden Gowrie-Smith, CFO at ReFuels, ringing the bell this morning to celebrate the company's listing on Euronext Growth Oslo. They were welcomed by Øivind Amundsen, CEO at Oslo Børs (Photo: Thomas Brun/ NTB).