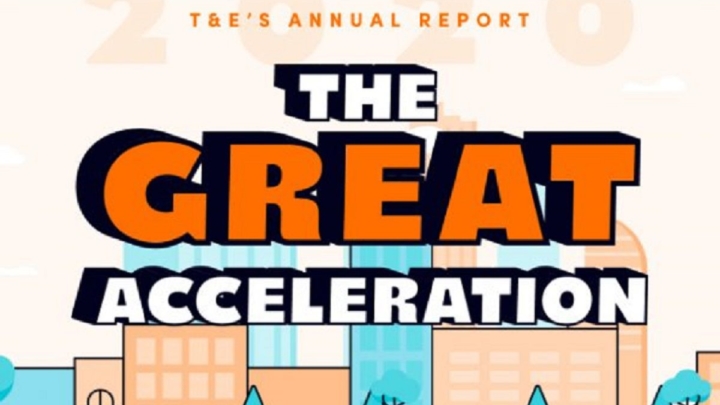 With emissions from transport having remained relatively unchanged since it became the largest emitting sector in 2016, there was a dramatic reduction from 2019 to 2020 which contributed to the largest proportional fall in UK greenhouse gas emissions in a single year since the start of the data series in 1990.
Total domestic emissions fell by 42.4 MtCO2e in 2020 with over half (55%) of the decrease resulting from the reduction in emissions from transport. This fall was the largest on record, likely as a result of the COVID-19 restrictions. Prior to this, transport emissions stayed relatively static as improved fuel efficiency of most vehicles was offset by increased usage.
No single answer
Highlighting that these statistics clearly demonstrate the need to decarbonise the HGV sector, Ben Nyland, President & CEO of Loop Energy, a designer and manufacturer of hydrogen fuel cells for commercial mobility, commented: 'While these statistics coincide with COVID-19 related restrictions, which reduced transport across the UK, the UK Government's Transport and Environment statistics 2022 publication underlines the need to decarbonise the commercial vehicle sector, given that transport is the largest emitting sector of greenhouse gases (24% of all emissions in the UK in 2020).
"These statistics clearly demonstrate the need to broadly decarbonise the HGV sector. As it stands, HGVs remain the UK's second-highest emitting transport mode in 2020, accounting for 19% of emissions.
"To address this significant challenge, it will be imperative for governments and the private sector to embrace a range of new energy systems. Transportation accounts for so much of the global emissions profile, and the diversity of applications are so substantial that no single technology will provide the entire solution.
A zero-emissions alternative
"However, as green hydrogen continues to become both economically viable and cost-effective," Ben continues. "Loop Energy strongly believes that hydrogen will play a leading role. When discussing the electrification of the HGV sector, we believe that hydrogen-electric vehicles are a high-performing solution for fleet operators.
"We are seeing next-generation hydrogen fuel cells for commercial vehicles deliver fuel to wheel efficiency that reaches up to 54%, compared to the typical fuel to wheel efficiency of a diesel engine at around 20% to 25%.
"These statistics demonstrate that governments must stay focused on supporting the global clean energy transition. Thanks to progressive vehicle manufacturers like Tevva, hydrogen-electric vehicles are well-positioned as a zero-emissions alternative to diesel-powered vehicles. As we expand our own operations in the UK, we look forward to supporting more UK OEMs and fleet operators in achieving the country's net zero targets.'
Executing to plan with record revenues and reduced costs
Loop Energy recently announced its financial results for the third quarter of 2022 with the company delivering record revenues and purchase orders for the year to date as well as being on track to exceed a 25% cost reduction compared to last year.
Loop Energy CFO, Damian Towns said: "We have continued to build on our history of executing with record quarterly and annual revenues driven by our strong growth in purchase orders and customer base. A highlight of the excellent progress made in achieving our stated objective for 2022 is reducing unit costs by 25%, which currently stands at 39% for the first nine months of the year.
"Our team has also continued to deliver with the launch of our 120 kW product, which uses our next-generation bipolar plate technology. Overall, we remain very upbeat about the progress made not only during Q3 but also the year to date."