As an energy specialist with 20 years' experience of building business in the energy and oil commodities sector and leading global high-performing teams, Vladimir will be responsible for overseeing the Group's activities across Europe and Africa, reporting directly to chairman & chief executive officer, Sanjeev Kumar Soosaipillai.
Track record in downstream growth
Vladimir joins the Prax Group having previously worked for OMV – an Austrian multinational integrated oil, gas and petrochemical company, headquartered in Vienna, Austria – in a variety of roles, most recently as managing director and trading director of OMV Supply & Trading Ltd, London.
He brings with him a wealth of industry knowledge, and a track record of successfully driving profitability and growth across the downstream value chain, including refinery feedstock and supply chain optimisation, building new sales channels, and setting up structured trade finance solutions.
Commenting on his appointment, Sanjeev Kumar Soosaipillai said: "We are delighted to welcome Vladimir to the Prax Group. His vast experience and comprehensive knowledge of our business make him the ideal candidate to lead our teams in Europe and Africa. Coupled with his analytical, intercultural and strong management skills, Vladimir will no doubt be a very valuable asset to the Prax Group, as we continue to embrace our company growth trajectory."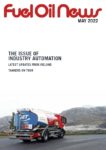 This article originally appeared in the May 2022 issue of Fuel Oil News magazine.
View the magazine