The directors have transferred 100 per cent of shares in the businesses to their teams by establishing an Employee Ownership Trust (EOT), funded by future profits.
The companies, both of which have been in operation for over ten years, have grown into significant players in the UK fuel industry, providing fuel delivery services and wider solutions to homes, farms and businesses. With bases in Hebden Bridge, West Yorkshire, and Padiham in Lancashire, Craggs Energy, predominantly serves the North of England, while Moorland Fuels serves the South West from its Okehampton head office.
Rewarding for hard work
Group chairman Chris Bingham, said: "I've been considering the option of employee ownership for quite some time and when we looked into the benefits and alternatives available to us, an EOT was the obvious choice as it allows the existing shareholders to plan their exit over a longer term while transferring the benefits to the employees.
"As successful and ever-growing businesses, we could have sold to a third party, however, I place great value on my team and wanted to be able to reward the people who have grown the businesses to where they are today.
"As far as I am aware, we are the first fuel distribution companies in the UK to transfer 100% of our ownership to an EOT. The response from our shareholders and our staff has been extremely positive and there has been an increase in productivity and motivation which I'm sure will help to drive future growth. There's no doubt in my mind, that creating an employee-led business is a good thing, and it would be great to see more companies consider the EOT route rather than a traditional trade sale."
Increased motivation
The Clarion team, led by Kaira Clarehugh and Jonathan Simms, provided legal advice, while Amanda Waterhouse and Lewis Richardson of BHP established the EOT and advised on structure and taxation issues.
Kaira Clarehugh added: "In recent years, we've seen EOTs becoming more and more popular and it's certainly a great way of rewarding the staff as well as motivating greater productivity and a bright future for the business and the community. We have worked with Craggs over a number of years and are delighted to have assisted the business on its move to an employee-owned model which is a fantastic fit for the culture of Craggs."
Abby Turner, sales and marketing director at Moorland Fuels said: "Moorland Fuels became part of the Craggs Energy Group in December 2020, since then we have invested in the company significantly and grown considerably. As a family-run business, I was delighted to see that Chris and his team share our values and I believe this EOT will provide considerable rewards for our staff and the company going forward."
Richard 'Bert' Ingram, who's been with Craggs for 10 years as a HGV tanker driver said: "I've been with Craggs for such a long time because it's a great company to work for and it's been good to see the company grow over the years. The announcement of the EOT reiterates why Craggs is such a fantastic employer, they reward their staff for hard work and eventually we will all reap the rewards."
A stake and a say
James de le Vingne, chief executive of the Employee Ownership Association (EOA), said: "We congratulate our members Craggs Energy and Moorland Fuels on their transition to employee ownership; securing the ethos, values and culture of the businesses, as well as rooting jobs in the North of England and Devon.
Employee ownership is one of the fastest growing business succession solutions in the UK, where there are now more than 800 employee-owned businesses – with more than 300 of those having transitioned since 2020.
The employee ownership trust (EOT) was introduced by the government in 2014 to encourage long-term employee ownership, and one in every 20 private company sales is now to an EOT, with Craggs Energy and Moorland Fuels joining a network of EOTs in the UK that include Richer Sounds and Go Ape.
As James de le Vingne concludes: "Businesses that give employees a stake and a say build trust and shared responsibility, uniting leaders and employees behind a common purpose, and leaving businesses in a better position to flex and adapt."
We were 'In Conversation' with Craggs Energy in the December issue of Fuel Oil News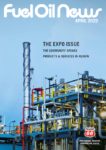 This article originally appeared in the April 2022 issue of Fuel Oil News magazine.
View the magazine