The industry needs more
Paul Craddock, the director of the company, said: "In a male dominated industry, it is nice to see female HGV drivers and especially tanker drivers. We have been lucky enough to have two female tanker drivers work for us.
"Most applications for jobs in the fuel distribution industry are from male drivers, but we didn't hesitate to employ our two female drivers, as they are very capable drivers and more than capable of handling the physical aspect of the job.
"Our customers are also delighted when a female driver shows up with their fuel and we have several customers that always ask for our lady drivers to make their deliveries, having lady drivers is a major plus point for our customers when choosing who to buy from. I would hope that more females will join the industry in the future to help with the driver shortage."
Made to feel welcome
Fuel Oil News spoke with Lorraine, one of the female drivers at Bedford Fuels to hear more about her experience of working in this industry. Asked what has helped her to settle into what is, traditionally, a very male-dominated industry, Lorraine comments how it has never been an issue noting: "I have always been made to feel welcome by my employers."
That said, Lorraine has seen some of the downside of the lack of gender diversity in the industry, commenting that it can be difficult due to occasional negative comments made by those she interacts with while doing the job. Despite this and the imbalance of numbers, Lorraine really enjoys the job and has also come across other females doing the same role and even had the pleasure to have personally worked with a couple of other females in the industry.
Asked about any negative reactions to doing the job from friends, those in the industry, or customers, Lorraine laughs: "I was told that I wouldn't last 6 months! (Lorraine has now been a tanker driver for over 13 years!) The customers have always been great and positive towards me."
In fact, asked about what she enjoys most about the job Lorraine doesn't hesitate and her customers are clearly an important part of a good day: "Every day is different, and I enjoy meeting the customers."
Naturally, despite the low numbers in the role, women are more than capable of fulfilling the job requirements and are seen as an asset by some customers. In an industry where there is currently a lack of HGV and tanker drivers, as well as a lack of gender diversity overall, it would be great to see more females entering the industry.
If you'd like to share your own experiences as a female professional in this industry, we would love to hear from you. Please get in touch with claudia@andpublishing.co.uk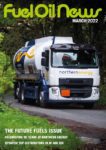 This article originally appeared in the March 2022 issue of Fuel Oil News magazine.
View the magazine