As we celebrate a new year and new beginnings, Fuel Oil News is in conversation with a brand-new fuel distribution company, Bedford Fuels Ltd. The Bedfordshire-based distributor, which only launched in October 2021, is already thriving. Claudia weeks speaks with Paul Craddock, the director of the business, to learn more about its rapid growth and to discover what the future plans are for this exciting new distributor.
Congratulations on launching Bedford Fuels Ltd. Having only begun trading on 1st October 2021, what led up to the decision to launch this exciting new business?
During my year out of the industry, I received several calls from friends and family advising me that they were unable to get a fuel delivery quickly or when they wanted it. I regularly checked out several company websites and comparison websites and, sure enough, it was difficult to get a next day, 2-day or 3-day delivery. Therefore, I saw a gap in the market that Bedford Fuels could exploit.
Having previously owned the well-respected family run partnership, Conquest Oil Company, until it was sold to Oil NRG Ltd what have you been doing in the interim and why are you keen to come back to the sector now?
During my time out of the industry I have been looking after my family's property portfolio and I was, of course, busy setting up the infrastructure for Bedford Fuels Ltd.
When my family sold Conquest Oil Company, HVO was in its infancy and most new houses were having heat pumps installed, so the future for fossil fuels looked bleak. With the advent of HVO and with government support,
I can now see that the liquid fuels industry will have a bright future. I was a bit bored at home and needed a new challenge. Also, my wife said I was too young to retire!
Anthony Kinns, director, and Martyn Clark, director, are joint owners with you in the business. Do they also have a history in fuel distribution?
Anthony Kinns was a previous customer of Conquest Oil, is a local farmer, owns a local petrol filling station and is managing director of Anthony Kinns Aviation (Services) Ltd, providing plane fuel services and manufacture of aviation fuel storage and delivery equipment.
Martyn Clark was an equal shareholder in a fuel logistics business. When I told them of my ideas, they were both very keen to invest in the new venture. Anthony will not be directly involved in the day to day running of the business, however, but will be offering support as required.
What areas will you be covering with your fuel distribution and what sort of split do you anticipate between domestic, commercial and agriculture?
We will be covering all of Bedfordshire, Hertfordshire, Buckinghamshire, Cambridgeshire, and Northamptonshire. I anticipate the business to be predominantly domestic with the volume split likely to be along the lines of 70% Domestic, 25% Agricultural and 5% commercial.
What is the best bit of advice you have been given so far in this industry?
My parents (and previous business partners) always told me to give customers what they would like (within reason), pay suppliers on time, and look after your staff (treat people how you would like to be treated).
By doing that, you will build a loyal customer, supplier, and staff base.
Launching a distribution business at a time when fuel transition is always in the headlines shows a lot of faith in the future of the. What do you think the future will look like for liquid fuel as the demand for fossil fuels reduces?
I am really excited about the prospects for HVO and can see HVO replacing gas oil, diesel, and kerosene in the next 5 years, as long as the price is right and there is a readily available supply.
Are you optimistic about the industry's desire to persuade the government that a liquid biofuel should be part of the future for home heating?
Yes, I think the government will realise that the national grid and infrastructure, as it is now, will not have the required capacity or be able to cope with the increased demand for electricity with the proposed switch to electric vehicles and heat pumps.
Also, why would people spend up to £15,000 on a heat pump or an extra £15,000 on an electric vehicle if HVO is readily available?
What fuels do you currently offer?
We currently offer kero, gas oil, diesel, IHO and HVO. We decided not to supply petroleum.
How will the changes to red diesel entitlement next April affect you as a company and your customers?
The red diesel change in April 2022 is going to have a massive impact on the cost to commercial gas oil customers (some will see their fuel costs double overnight). It will also stretch already tight credit lines and increase the risk of theft.
We will have to insist on customers paying COD or within 7 days. The times of generous credit terms will be a distant memory.
How is the business growing so far both in terms of customers, vehicles, and areas?
Why are customers choosing Bedford Fuels Ltd and do you see much opportunity to grow further?
We started on October 1st, 2021, with two rigids and one artic. By the end of week 3 we had a third rigid, and a fourth rigid entered service at the end of week 6. The fifth rigid is due to start work in the first week of December.
In month 1 we delivered 0.85 million litres and in month 2 we delivered 1.4 million litres and we have completed over 1700 deliveries to over 1500 locations.
We started off supplying Bedfordshire and Hertfordshire but, with the extra vehicles, we now cover Cambridgeshire, Northamptonshire, and Buckinghamshire.
We have found that most of the loyal Conquest customers have been pleased that the old Conquest Oil Company team are back together. There are dozens of customers that bought from my grandfather, then my mother and father, and were delighted when they heard Paul Craddock was back in the industry. Local people know the Craddocks, Clarks and Kinns families and are really pleased to support a local business and local people.
A lot of the local buying groups had a good relationship with the Craddock family.
To be honest, we have hardly carried out any marketing, 99 % of enquiries have come from word of mouth and customers seeing our tankers in their area. The best form of advertising is getting the tankers out in the local area. We find that 'people buy from people' and they like the personal attention to detail. We try and accommodate all requests, no matter how awkward the request. Our motto is: 'never to say no unless it is impossible.'
Customers also like our specialist local knowledge, they like the fact that we are not nationwide, they like our flexibility, we pride ourselves on customer care. We also have two female drivers, which the customers like. A lot of customers like the feel of a family company over a corporate one.
We are looking to grow to ten vehicles over the next 12-24 months as there are plenty of customers for everyone within our delivery area.
Over the next few years, what do you see as major challenges to the industry and what are the positives?
The major challenges are the gas oil change in April 2022 and the Government's
encouragement of electric vehicles and heat pumps. The positives must be future fuels (HVO) and the fact that commercial electric vehicles will not be a viable alternative for at least a decade.
What are the things that currently keep you awake?
As a new company it must be breaching credit limits with suppliers and hoping customers pay on time.
What do you enjoy most about operating in fuel distribution?
I love helping customers in a crisis. For example, a farmer that has run out of fuel in harvest, a domestic customer that has run out in winter and construction companies that have a site that has run dry.
I find that when you pull out all the stops to help someone, they remember what you have done for them and will keep coming back to you time and again.
What are the values that you would like Bedford Fuels Ltd do be associated with?
That we treat staff, customers, and suppliers with equal respect and treat them how I would like to be treated. We are flexible, fair and try to accommodate all requests.
Is there anything else you would like us to know about Bedford Fuels Ltd?
Our USP will be emergency supply within the area we cover.
Looking to the future what is the vision for the company?
To become established and recognised as the place to go for a quick and competitive fuel supply.
Bedford Fuels Ltd may be a new business in a rapidly changing industry but, with Paul at the helm, it is run by someone already well established in the sector who is backed up by an incredibly experienced team. They have already proven themselves prepared for the challenges and, with their drive and determination, are sure to make a success of it.
We look forward to covering their future developments.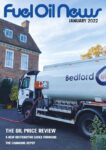 This article originally appeared in the January 2022 issue of Fuel Oil News magazine.
View the magazine