Fuel Oil News spoke with Phil Murray, the deputy managing director at WCF, to hear all about the new driving academy.
"As an employee-owned business, WCF always puts our people at the heart of what we do. We have created many internal development programmes to help our colleagues fulfil their potential and the creation of a driving academy was an obvious next step."
So much more than driving
"This is a fantastic opportunity to recruit new talent into our fuels businesses and provide a tailored training program bespoke to our way of doing business. The candidates will learn so much more about our business than simply driving tankers.
"Their training and development will cover all aspects of our operations, not just what we do, but more importantly how we do it. We are genuinely excited about this initiative and fully expect that it will become embedded in our ways of working and ultimately increase our already high levels of colleague retention."
"We've been overwhelmed by the response we received following the launch of our academy, so much so that we had to increase the number of open days planned to cope with the level of interest! Unfortunately, we couldn't offer places to every applicant, but those who have come through the assessment process have shown a great desire to learn and develop their skills. They genuinely want to build a new career at WCF and can see that they have joined a business who genuinely cares for their people and is insanely passionate about delivering a first-class customer service."
Quality over quantity
"In order to deliver the quality of training needed, we have limited the first intake to six but aim to add to this initial cohort in 2022. As with any new initiative, we will be seeking feedback from our first cohort to see how we can further enhance the excellent training and support we already provide.
"Our aim is to reduce the need for external recruitment in the next 5 years and essentially "grow our own" drivers of the future."
WCF is also keen to hear from anyone that would be interested in joining their academy in 2022 so please do get in touch with phil.murray@wcf.co.uk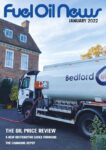 This article originally appeared in the January 2022 issue of Fuel Oil News magazine.
View the magazine