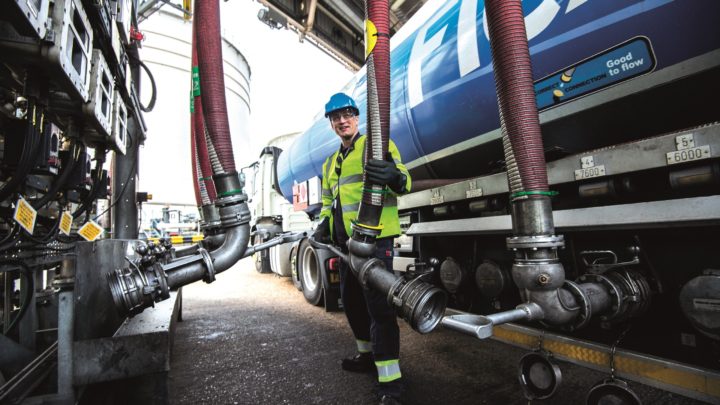 Fuel Oil News spoke with Greenergy who explained how, due to the differentiated fuel supply model it operates, it was able to respond to this extreme shift in demand in a way that ensured its customers could continue serving consumers.
Through its dedicated in-house haulage team, Flexigrid, Greenergy was able to act quickly. The dedicated in-house scheduling, resourcing, customer service teams, and driver fleet worked together to reschedule fuel deliveries and divert product as needed. The company also secured its own extra trucking resource to ensure the continued supply of petrol and diesel with minimal disruption.
Caroline Lumbard, UK trading director at Greenergy, explained: "We always put our customers first and take every possible step to deliver a differentiated service, including our haulage offer. It was no different during the fuel crisis. Our teams worked around the clock to keep customers supplied."
Unique set up gives unmatched supply resilience
Unique to the industry, Greenergy Flexigrid is partly owned by the drivers, which enables greater transparency and trust as drivers have a say in the business. Greenergy's operations are further supported by strategic infrastructure and a global supply chain, giving the company end-to-end control of its supply offer.
"This integrated business model means we are straightforward when it comes to providing unmatched supply resilience. We stay true to our values, never losing sight of our customers' needs," Caroline added.
Adam Franklin, Greenergy Flexigrid CEO, commented: "Even in the height of the crisis, our resilience and reliability meant customers received their usual loads and more. In fact, we saw volumes jumping above pre-COVID levels, as consumers sought to stock up. Working as a team, we were able to make over 1200 deliveries a week."
Appreciative of the support received, customers were keen to express their gratitude to Greenergy:
"Thank you for looking after JLP and keeping us supplied. Hopefully, we will soon see levels going back up to where they were before this crisis started."
Anthony Buckley, partner and technical engineer for John Lewis Partnership, Central Transport.
"Thank you to everyone working behind the scenes keeping us informed of any changes made to scheduled deliveries and ensuring our stock levels were maintained."
Linda Crabtree, head of Bus Procurement at Go-Ahead.