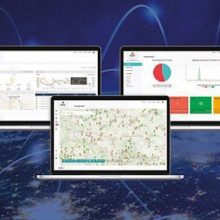 Telemetry devices fitted to customers tanks enables level data to be seamlessly imported via API feed to an FOD's software systems – typically CODAS & Fuelsoft (no need for file sending) – enabling auto-ticket generation.

FODs can also view, monitor and export tank data across their entire population through the Connect Sensor platform, which now comes with the addition of a mapping function.

"Increasingly, our fuel distribution customers not only use the data to auto-generate orders, they are also using it to reduce delivery frequency and optimise routing," says Nick Hawkins, Kingspan's commercial director UK & Ireland.

"It means they're able to significantly cut travel time and left-on-boards thanks to more accurate planning."

He continues: "We've been at the forefront of developments in tank and telemetry systems, working closely with our FOD partners, for many years.

"One of our key strengths is that we now have a suite of telemetry devices. That means, whatever the application, we have the most accurate and cost-effective solution, whether it be a plastic tank, steel tank, domestic, commercial, diesel dispenser, or a mobile bowser.

"Our devices are compatible with a range of connectivities such as 2G, 3G, NB-IoT, LoRa & SIGFOX. And our new Watchman Radar unit reads the tank level without the need to drill a hole, making it an ideal solution for plastic tanks owned by domestic customers."

Click here for more information.

Kingspan Energy Management Solutions will be showcasing its "smart" tank monitoring systems at UKIFDA 2020 (virtual event), on 7-8 July 2021.