Certas Energy's latest HGV refuelling bunker site at the Port of Southampton, close to Dock Gate 20, will be operational in October 2020. Working in partnership with leading port operator Associated British Ports (ABP), the HGV refuelling facility is the first of its kind to be opened inside the port.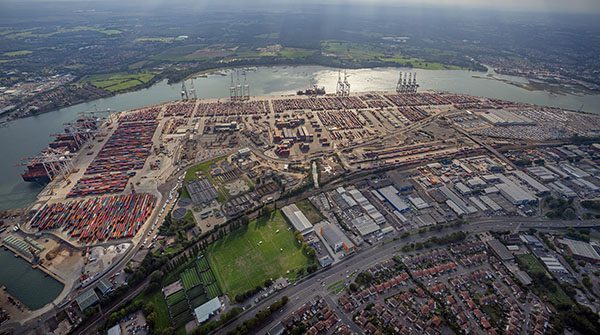 Featuring eight high-speed refuelling pumps, the facility will dispense fuel at speeds of up to 120 litres per minute. The site has been designed to service the high volume of HGVs that pass through the port each day, and will provide a quick, efficient and conveniently-located facility for port users.
The new refuelling facility, adjacent to the DP World Southampton container terminal, will dispense DERV, red diesel, AdBlue and cleaner-burning diesel alternative, Shell GTL Fuel. This drop-in alternative fuel can be used immediately in HGVs to reduce harmful emissions of nitrogen oxides (NOx) and particulate matter (PM) without having to make engine or equipment modifications.
Commenting on the new refuelling site, Clive Thomas, ABP Port of Southampton's head of commercial and property, said; "We are pleased to be able to offer Shell GTL Fuel at the port for site users for the first time. This significant move supports our commitment to further improve local air quality and facilitates smoother operations for visiting HGVs."
Andrew Goodwin, national bunker manager for Certas Energy added; "The Port of Southampton is one of the UK's key logistics hubs, handling 14 million tonnes of cargo annually and an average of 1,800 HGVs every day. Our new refuelling facility will enable lorry drivers to refuel quickly and conveniently at the port before picking up or after dropping off their load – so they can continue the rest of their journey uninterrupted.
"Our site at the Port of Southampton builds on Certas Energy's experience and success in fuelling the booming logistics sector at some of the UK's largest ports. We are delighted to be working with ABP in delivering this scheme which aims to reduce the turnaround time at the Port of Southampton and further expand our strategy of investing in key strategic locations to support UK logistics."
The new refuelling facility located at the heart of the Port of Southampton will join Certas Energy's network of 21 bunker sites across the UK. For more information, please visit https://certasenergy.co.uk/my-business/fuel-cards-and-bunker-sites/southampton-hgv-refuelling-site/