Further to news of the significant safety milestone achieved at Stanlow, a donation of £3,000 has been made to the Ellesmere Port based Boaty Theatre Company to support the delivery of their summer programme for local children. The funds were raised through Essar's 'Let's Give' scheme, which links the company's commitment to safety directly with charitable giving and came after one million hours without a Recordable Injury were recently achieved at the refinery.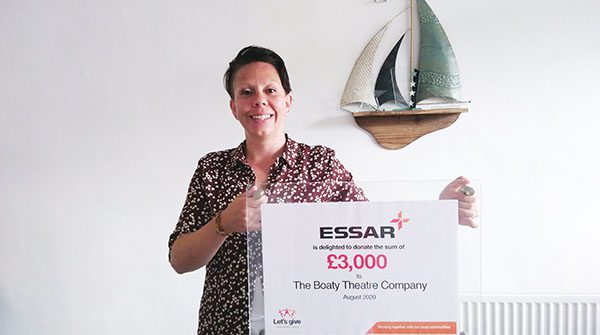 The awarding-winning team at The Boaty Theatre Company provide a safe and a supportive environment for local young people of all abilities to achieve their creative ambitions through on-going projects, performances, workshops and creative activities. Boaty Theatre were quick to adapt to the Covid-19 pandemic, moving rehearsals online and social groups going virtual to ensure all their regular beneficiaries were safe and well during isolation. In response to challenges facing the local community, the team devised and launched a free summer programme, which local young people could join in person or online.
Consisting of four hours of creative workshops every weekday throughout the holidays, the programme includes drama sessions, creative writing and music production, together with yoga, mindfulness and art therapy. The team also created activity packs required to join in workshops from home. These were given to over 400 local children, helping families struggling with the cost of home schooling. The charity has also been able to provide in excess of 30 free lunches every day through external support.
Artistic director for The Boaty Theatre Company and Summer Programme Lead, Laura Harris, said; "We were delighted to discover that Essar knew of and wished to support our work. This surprising donation will really help us out and enable us to address differentiated provision for the remainder of the summer programme. It's so encouraging to be recognised in such a manner and be supported by a company so intrinsically linked with the town."