In the last week alone, over a thousand forecourts globally have taken Devon-based GripHero up on its offer of providing hand-protection dispensers free to protect customers from the transmission of Covid-19 at the fuel pump.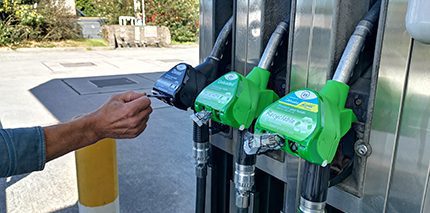 The brainchild of inventor Oli Yeo, GripHero is an award-winning patented hand-protection dispenser, which sits on top of every hand-pump on the forecourt, so that the very first thing the customer interacts with is the hand-protection itself. This prevents customers from coming into contact with the fuel pump handle where Covid-19 could easily be passed from one driver to another.
The right thing to do
At a potential cost of up to £3 million to the business in up-front costs for the UK market alone, Oli Yeo decided that the only right thing to do was to provide the dispensers free of charge, as they are the only ones in the world permitted within the refuelling zone due to their use of ATEX-Certified anti-static materials. All other hand-protection must be stored away from fuel pumps as they are susceptible to static charges.
Commenting on the incredible response and demand for GripHero's hand-protection dispensers, Oli Yeo said: 'In the last week alone, we've received enquiries and orders from operators with over 1,000 forecourts internationally.
"They know full-well that when drivers cough or sneeze, small droplets of mucus are spread onto the steering wheel and their hands. If the driver were to have Covid-19, that could be easily passed on to other users via fuel pump handles. These are hard plastic and metal surfaces where Covid-19 can survive for upwards of 24 hours. In that time hundreds of hands could pick up and pass on the virus, which is why it's essential for all drivers to use hand-protection at the fuel pump, every single time."
Independent research commissioned by GripHero, shows that over 80% of drivers regularly fill up without using hand-protection because they can't find gloves, or because standard dispensers are empty. Fitting GripHero hand-protection at every refuelling bay, and in particular, on each fuel pump nozzle, helps put a stop to this problem.
Adoption of GripHero
Westmorland Ltd, an operator of multi-award-winning motorway service stations across the country, including Gloucester Services, is one of the groups that has adopted GripHero, providing protection against the transmission of Covid-19 across their network.
Andy Smith, Group Fuels Manager for Westmorland Ltd explains: "It is more important than ever before to protect our customers in the best way we possibly can. By offering GripHero, Westmorland Ltd is playing its part in the battle against coronavirus and is dramatically reducing wastage that other glove dispensers produce. We're also eliminating the static-risks for our customers in the fueling zone."
Oli Yeo added: "The global fuel industry has changed overnight. Demand for hand-protection at the fuel pump has hit an all-time high, as drivers look to protect themselves. That means it is vitally important to dispense protection efficiently to avoid running out of protection at the pump, and to prevent wastage of plastic, adding to a forecourt's already high carbon-footprint.
We hope to help all forecourts in the UK. Working at current production capacity, we could equip every petrol station in the UK within 6 months."