Certas Energy has just released a new report entitled The Future of Liquid Fuels – the first in the New Energy Reality Series, the paper outlines how alternative fuels have a key role to play in the transition to a zero emissions future.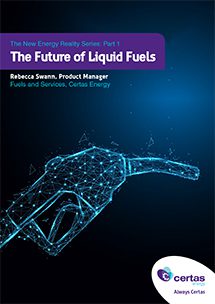 Authored by Certas Energy product manager Rebecca Swann, the paper also explores what the current liquid fuel mix looks like and offers an insight into how these fuels can support the transport sector with the commercial challenges of reducing emission levels.
This new series builds on Certas Energy's Alternative Guide to Navigating the New Energy Mix published last year.
"At present, our research shows that only 1% of commercial businesses that could be benefitting from the social, environmental and commercial advantages of a drop-in alternative liquid fuel, are currently doing so," said Rebecca.
"Certas Energy is clear that liquid fuel, whether oil for domestic or commercial heating or fuel for 'on' and 'off-road' applications, must play its part in moving towards cleaner air – and ultimately – a zero emission end point for the UK economy.
Download the report at https://www.certasenergy.co.uk/my-business/future-of-liquid-fuels