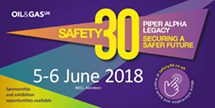 Thirty years on from the world's worst offshore disaster, an Act of Remembrance will take place in Aberdeen on Friday 6th July with families, friends and industry representatives gathering to remember the 167 men who lost their lives. 
The reverend Gordon Craig, chaplain to the UK offshore oil and gas industry, who is organising the Act of Remembrance said:
"Thirty years may seen a long time to some, but for those who lost a father, son, brother, husband, partner, uncle, nephew, friend or colleague, the tragedy is still very much part of their life.
"Our commemoration is an opportunity to gather together and remember those loved ones who never came home.  By naming every person who tragically lost their life, the city and industry together can demonstrate that the loss of these men will not be forgotten."
"It's hard to believe that three decades have passed since the Piper Alpha tragedy," added the lord provost of Aberdeen, Barney Crockett.
"The shocking events of that night thirty years ago are imprinted on the Aberdeen memory forever. 
Beginning at 7pm the names of the perished will be read aloud and a lone piper will play a lament followed by a minute's silence.  The service, which takes place in the Piper Alpha memorial garden, is also open to anyone who wants to remember and pay their respects.
---
Lessons learned from the tragedy have ensured that the health and safety regime in the North Sea is entirely different now.
In association with the International Regulators' Forum, Oil & Gas UK has organised Safety30, a major conference which takes place on Tuesday 5th and Wednesday 6th June.
Lord Cullen who chaired the public enquiry into Piper Alpha will address the conference and discuss the need to continue to heed safety lessons and other insights.
oilandgasuk.co.uk/offshore-safety-three-decades-on-from-piper-alpha/
---