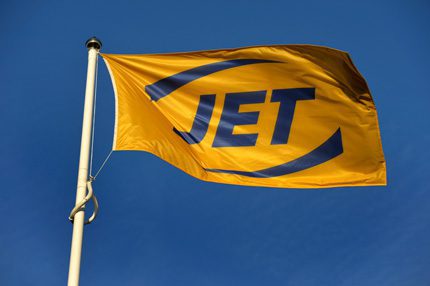 The deal, which sees the addition of 58 sites from the Motor Fuel Group's purchase of Murco's retail business, takes the total number of MFG sites supplied by JET to 68.
The original ten MFG sites supplied by JET are spread from Southampton in the south to Glasgow in the north, while the additional sites are located throughout Scotland, Humberside, Yorkshire, Midlands and the South East. The bulk of these new sites will be supplied from JET's supply points at Immingham, Kingsbury and Thames.
The new 5-year supply contract commences on 1st April with all sites due to be branded by the end of May 2015.
"We've made no secret of our plans to expand our network," said Pete George, managing director of Phillips 66 UK & Ireland Marketing.
"We've set a target of 400 sites by 2018 – so to win a quarter of MFG's available sites is a real coup for everyone here at JET. This latest win takes the total number of JET sites to over 350 and with further site wins in the pipeline, it's a very exciting time for our network.
"MFG is without doubt one of the largest and fastest growing independent fuel operators in the UK and as it continues its own expansion plans, we will certainly be delighted to be part of any further growth. The way MFG operates very much complements our approach to business. We hope that this latest win demonstrates that JET is a strong supply partner and is 100% committed to the future of the UK fuel retail market."
MFG fuels director Jim Mulheran added: "Our relationship with JET stretches back to 2011 and since then we've established a very positive working partnership. We've been consistently impressed with how JET operates and, based on the success of previous contracts and a competitive supply deal, the decision to choose JET as our supplier for these additional sites was an easy one. We're very much looking forward to working with Pete and everyone at JET over the next five years and beyond."
www.phillips66.co.uk/EN/jetbrand
www.motorfuelgroup.com