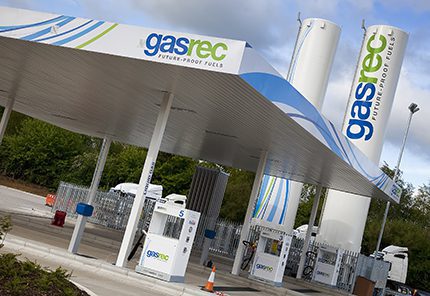 "We've a number of operators who've opted to run vehicles on alternative fuel solutions – LPG, CNG, hybrid, E-CELL and a selection of biofuels – and, results have been both clear and encouraging. Feedback tells us that cost savings of up to 20% are available, with conversion payback times on investment around 24 months, depending on technology and distances covered. We offer a number of alternative fuel solutions for both our truck and van products. They are available ex-factory or are supplied through our UK engineering partners."
At Volvo Trucks, Ray Cattley, said: "Yes, there is a market for alternative fuels which offer a solution to lowering global emissions, as well as making the operation as efficient as possible.

"Methane in LNG form, which we have adopted to provide relatively dense energy storage on tractor units, is one of the fuels identified in Volvo's own research into 7 potential alternative fuels for trucks – as well as dimethyl (DME). In the LNG form this offers the greatest potential for return-to-base type regional distribution applications, until there is a wider network of LNG refuelling stations.

Last year, Volvo Trucks announced the production of its FM methane diesel LNG dual fuel solution for Euro-V. Operators keen to take a step forward in reducing their carbon footprint, see this as a good solution backed by full factory development, production and warranty terms."

Share your views with liz@fueloilnews.co.uk.

Alternative facilities

The first facility in a national bio-LNG refuelling network opened in Daventry recently. A second facility will open at Avonmouth in October.

Bio-LNG is Gasrec's proprietary blend of LNG and liquid biomethane (LBM), produced from organic matter such as household food waste. Compared with pure diesel equivalents, it can reputedly 'cut fuel costs by 20-30% and CO2 by a minimum of 20%, while delivering a 90% reduction in NOx and particulate matter emissions'. Commercial development manager, Doug Leaf said: "Over the coming months we will be working with major retailers and logistics companies wishing to build their fleets of bio-LNG fuelled vehicles.

The UK's first CNG filling station opened in Crewe in March. It is the UK's largest such facility with the capacity to fill 500 HGVs a day.