With the motor racing season in full swing, FON looks at some of the key participants from within the fuel oil distribution industry
The WP Group has unveiled a new look for its motorsport division – WP Racing. New branding now encompasses the entire motorsport, automobile, corporate and circuit/venue aspect of racing in both the UK and across Europe.
"Combining quality of product with the highest level of trackside expertise and onsite fuel testing, WP Racing is rapidly becoming the name to be associated with this season and beyond," said commercial director, Darren Borras.
Driven by the purchase of the already well-established Atol Fuel, the racing division began in 2008. "Brand exposure is a key benefit of our involvement with the sport.  As the brand develops at a rapid pace, this area presents almost limitless opportunities," added marketing coordinator, Harriet Phillips.
Racing partnerships
The company is the official fuel and lubricant partner to some well-known European championships including British Formula 3, British GT and the Renault Clio Cup.
WP Group also partners race experience centres and high profile circuits including Donington Park Racing. A recent partnership agreement at Thruxton Motorsport Centre now sees the brands of WP Group and its operating divisions – WP Racing, Mobil Service Centre and WP Heating – displayed on the main grandstand, karting tracks and driving experience cars.
On track with deliveries
Located just ten miles from Silverstone, Nolan Oils provides fuel and lubricants to many of the UK's major motor sport companies including Formula 1 and British Super Bike teams.
"With our depot central for many teams, over time we've probably served most," said owner and motor sport fan, Mark Nolan. "For 13 years, we supplied Mercedes GP at Brackley until they changed to air source heat pumps. We've also supplied the Silverstone circuit directly and many of the contractors based there throughout the racing season.
"We count many ex-racers among our customers; Jackie Stewart is probably our most regular domestic customer; although the other week we helped Red Bull team principal Christian Horner out when he'd been let down by his usual supplier. Current ones include Tim Harvey, British GT championship competitor and FI driver Mark Webber, who we saved from a cold house last year."
Motor sport is an area Mark would like to develop: "These companies use large volumes of oil and lubricants and are very loyal customers. We talk most weeks and, with the volumes they use, we keep a keen eye on price. We never let them down – one missed delivery can mean thousands of pounds in disruption to production."
More entertaining in the FAST lane
Wishing to enter new markets, Shropshire-based Fuel Additive Science Technologies (FAST) is sponsoring Rob Austin, a driver in the British Touring Cars Championship.
Televised on ITV4, the 2013 season commenced at the end of March. In the line up, Rob's car is one of only two with rear wheel drive and FAST's cleverly placed and eye-catching logo ensures good exposure.
Chairman Bob Hall explained the thinking behind this sponsorship: "For us, it was a threefold decision. We wanted to continue to elevate our existing brand image, access new markets including professional garages and have the opportunity to entertain our customers."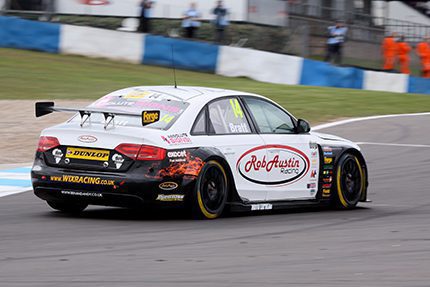 Island racing brings crowd benefits
With the Isle of Man synonymous with racing, FON spoke to David Kay, general manager of Manx Petroleums about the company's involvement in the TT and the Manx Grand Prix.
"When the TT races take place, most competitors run bikes on super unleaded from the forecourts," said David.
"During events, visitor numbers and fuel demand rise significantly – in addition to competitors, around 12,000 extra bikes arrive on the island making roads very busy. To accommodate, we change our business hours, starting earlier to deliver to retail sites before spectators start riding around thus ensuring trucks are off the road as fast as possible."