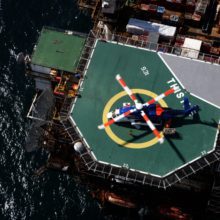 Based on data from over 25,000 respondents, the guide produced by Hays Oil & Gas and job site, Oil and Gas Job Search shows that full time professionals in the UK oil and gas industry enjoy average salaries of £57,900 per annum – a rate of growth of 7.2% from last year and more than twice the current rate of inflation.

A rise in bonuses has continued and is now the dominant mechanism by which companies attract and retain talent. On average, bonuses account for a further 5.8% of the employees overall package with almost two thirds receiving some kind of benefit or allowance on top of their basic salary.

Download a free copy of the guide www.hays.com.au/employer-services/oil-gas-recruitment/Salary-guides/HAYS_089070

www.oilandgasjobsearch.com/SalaryGuide

Making the most of a valuable national asset

As the government stimulates investment in the North Sea to 'make the most of this valuable national asset', EnQuest, the North Sea's largest independent UK oil producer, has secured a brownfield tax allowance to fully exploit its Thistle oilfield. The move will safeguard almost 500 existing jobs and create almost 1000 new jobs across the UK oil and gas supply chain in Aberdeen, Newcastle, Manchester and Swansea over the next three years.

"We acquired Thistle in 2010, and as a result of our investment so far production has significantly increased," said David Heslop, general manager for EnQuest in Aberdeen. Thistle is a prime example of how we're able to recover more oil from mature assets through a combination of innovative ways of working and technical expertise. It demonstrates what EnQuest does best and underlines our long-term commitment to the North Sea."

"Oil and gas will still be needed to provide 70% of our energy needs into the 2040s," added Mike Tholen, Oil & Gas UK's economics and commercial director. "EnQuest's decision to make fresh investment in the Thistle field will provide hundreds of jobs right across Britain and with extra oil being extracted, UK energy security will be strengthened." www.enquest.com

To return to the newsletter click here.