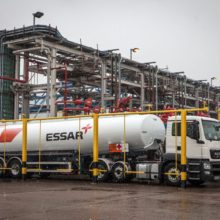 The tanker, which is set to become a familiar sight on the motorways of north west England, will be used on commercial deliveries. Operated by Flexigrid, Essar's haulage service provider, the vehicle is the first branded tanker to be put on the road since Essar acquired the site in August 2011.

Colin Dixon, head of marketing at Essar Oil, said: "Our priority since acquisition has been to build our reputation for being a reliable supplier with whom it's easy to do business. On the back of getting these basics right we've been able to expand our business, including that part in which we deliver fuel into the premises of the bus & rail companies, hauliers, parcel delivery companies, manufacturers and resellers. The fact that we'll now have a very visible presence out on the roads is a sign of our determination to attract new customers, further grow the business and build our brand in the UK."

"We're delighted to have an Essar branded vehicle as part of our fleet and look forward to growing our partnership with Essar over the coming years," added Michael Blundell, Flexigrid director. The branding of the tanker reflects the hard work of the staff at both companies over the last 18 months, in particular the professionalism of the drivers in delivering the highest level of service."

To return to the newsletter click here.