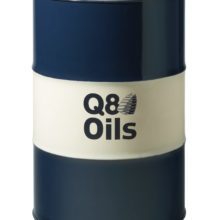 The oil has been developed due to new technology from one of the company's additive suppliers, which has allowed Q8Oils to provide a cost effective low SAPS commercial engine oil that covers both ACEA E6 and E7 applications. The oil has been designed for EURO 4 and 5 diesel engines equipped with a Diesel Particulate Filter (DPF) or catalytic after-treatment systems, operating on low sulphur diesel fuel whilst under severe heavy-duty conditions.

The benefits of the newly launched oil include minimised DPF plugging, protection for catalytic after-treatment systems, excellent protection against bore polishing and cam wear, prolonged oil drain intervals and reduced maintenance costs. The product provides quick lubrication after cold starting, thus limiting engine wear and engine fouling due to the reduction of combustion soot.

Kevin Duncan, technical manager at Q8Oils, said: "The launch of this new engine oil illustrates Q8Oils' dedication to both product innovation and responding to the needs of our customers. We are pleased to offer a new cost effective solution to the many customers needing to supply engine oil for EURO 4 and 5 diesel engines."

www.q8oils.com.