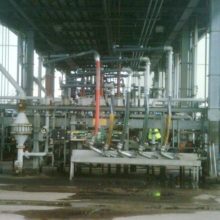 In an on-going programme, IFC has successfully supplied a second rack of loading arms to upgrade the bottom loading gantry facilities, and the third set is due to be supplied within the next month.

The IFC BLA445T bottom loading arm is completely operator orientated and is carbon steel in construction with PTFE seals, making it compatible with a large number of fuels and liquids.

It has a compact, fully adjustable compression spring cylinder to allow easy operation of a fully flooded arm and hose assembly. The 4" nominal bore arm provides flow rates of up to 2500 litres per minute, and the three part swivel joints allow easy manoeuvrability and guarantee the API coupler lines up correctly.

Nustar Clydebank & Grangemouth terminal engineer Neil Woodley said: "We needed a reliable and cost effective replacement for our first generation loading arms, along with good technical support from the supplier. With IFC we are happy we made the right choice on both accounts."

IFC operations director, Kiran Shaw, added: "Our loading arm offers engineering quality at low capital outlay combined with reduced on-going maintenance costs, which all goes to make our 445T one of the best value bottom loading arms available".

www.inflow.co.uk
IFC exhibited at the Tank Storage Association Exhibition and Conference in September. Read about the event in the November issue of Fuel Oil News.