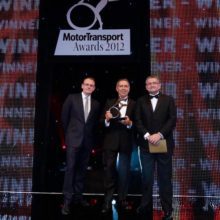 Ray Ashworth, managing director of DAF Trucks UK said: "To go on winning the Motor Transport award during some of the most challenging years the UK transport industry has ever experienced, underlines the key principles of our truck range – maximum reliability, highest driver comfort, together with the outstanding in-service support provided by our nationwide network of dedicated dealers."

Volvo helps drivers avoid accidents

Meanwhile the first results of the European Field Operation Test (euroFOT) field study presented in Brussels earlier this year, showed that Volvo Trucks' active safety systems can help drivers avoid accidents.

"We studied 30 trucks, operating with two haulage firms, and examined the effectiveness of three systems: Adaptive Cruise Control (ACC), Forward Collision Warning (FCW) and Lane Keeping Support," says Karsten Heinig, manager of the project at Volvo.

The study revealed that ACC and CW, which are used together to maintain a safe distance behind the vehicle in front, could cut the number of rear-end impacts on motorways by 15%.

"On average, the system is used less than half of the driving time. If usage increases, this will bring about a further reduction in accidents," adds Karsten.