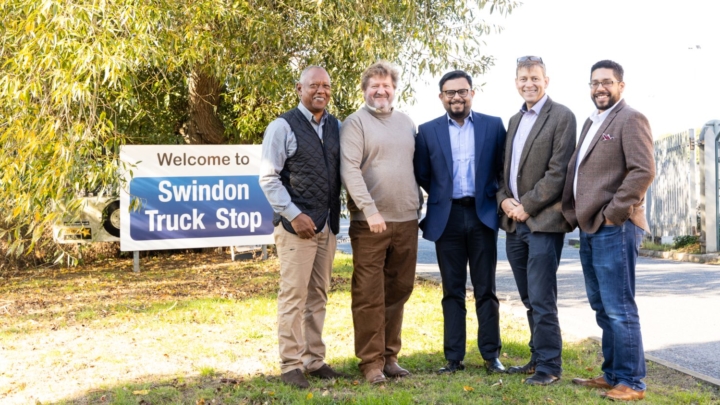 An exciting opportunity
Swindon Truckstop is conveniently positioned to service commercial traffic travelling the M4 corridor between London and the southwest, as well as local traffic on the busy A419 to Cirencester and A420 to Oxford. With parking for over 80 commercial vehicles and 24/7 fully automated pumps offering refuelling for diesel and AdBlue, it has everything in place ready for Mabanaft to start running the site with immediate effect.
As an independent company, Mabanaft's goal is to offer drivers and companies good-value and a high-quality service experience via its Onroute and tankpool24 network of truckstops. In-keeping with this, the company is planning to invest in the facilities at Swindon Truckstop to bring it into line with other truckstops on its network. Described as a 'proper truckers rest area' it has a loyal following. As with its other truckstop acquisitions, Mabanaft plans to retain current staff meaning regular visitors can be assured of seeing the same faces and receiving the same friendly welcome.
The right values
Former owners, Mike Taylor and Derek Thompson,who each held a 50% shareholding in Swindon Truckstop,were pleased to be passing the site on to a company with the right values and positive plans to expand its truckstop network. Mike said, "We've enjoyed running the truckstop over the past 7 years, investing profits to slowly build it up. Now it's time to pass it on for a bigger company to take over and develop, and Mabanaft was the obvious choice. I've worked with Mabanaft for many years and I know they have the right attitude and that both our business and our staff will be in good hands."
Mabanaft Ltd is well positioned actively developing a truckstops network across the UK. The company is part of the Mabanaft Group, a trading arm of Marquard and Bahls. Through its subsidiaries the Group has a network of 580 service stations across Western Europe. Its aim is to offer European-wide coverage for truckers via tankpool24 brand of truckstops in Europe and Onroute brand in the UK. Truckstops are also seen as a natural extension to Mabanaft's successful diesel bunker and fuel card businesses. Swindon Truckstop will be operated by the company's dedicated truckstop entity, Onroute Truckstops Ltd.
Planned acquisitions
Head of Mabanaft, Jay Nair, said; "We are steadily growing our truckstop network throughout the UK and are delighted to have taken ownership of Swindon Truckstop, one of several planned acquisitions. We're proud to be helping provide owners with certainty over the future of their independent truckstops. As a family-owned business Mabanaft operates with the same care and ethos as many of the owners we're in negotiations with. It is our aim to provide high levels of service and support to both customers and staff, providing continuity and certainty for all concerned."