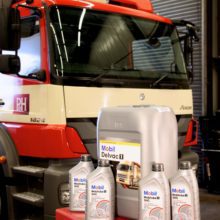 The introduction of fully-synthetic, high performance lubricants has helped to improve the fuel economy of Mercedes-Benz, Iveco and DAF trucks.

The field trial was initiated as part of Palmer & Harvey's ongoing commitment to improve its sustainability performance. Four trucks were selected to participate in the trials from the company's Dunfermline distribution centre.

Fully-synthetic lubricants replaced conventional mineral based products in the engine, transmission and rear axle of two Mercedes-Benz 1823 Atego trucks, one Iveco 180E23 and a DAF CF 85. Mobil Delvac 1 LE 5W-30 was used in the Mercedes-Benz and Iveco trucks, and Mobil Delvac 1 5W-40 in the DAF engine. Mobilube 1 SHC 75W-90 was used in the transmission and rear axle of all four vehicles.

Tthe fuel economy performance of the vehicles was monitored over a five month period. Significant fuel economy benefits were achieved across all four vehicles, with the DAF demonstrating a 4.9 percent reduction in fuel consumption.

"The results reported by Palmer & Harvey demonstrate the significant benefits that could potentially be gained by using fully-synthetic, fuel-efficient lubricants in a vehicle's engine and full drivetrain," said Steve Crawley, UK& Irelandcommercial vehicle lubricants manager, ExxonMobil Lubricants & Petroleum Specialties.

www.mobildelvac.co.uk.