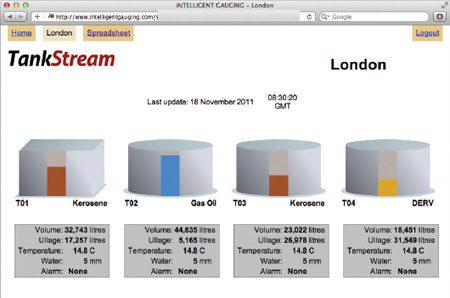 New products from TankCare UK (an OTS Group company) include TankStream, a fuel quality and wetstock monitoring system for dispersed fuel storage installations.
Designed to provide real time updates, the system works in conjunction with an integral fuel conditioning system which recirculates and treats the wetstock to prevent microbial growth contamination.
"With higher content biofuels having resulted in greater amounts of water in suspension, fuel quality can very quickly deteriorate if not treated immediately," says OTS sales director, Steve Gain. "Fleet managers want a more intelligent approach; TankStream allows them not only to check fuel stock availability, but also the fuel's condition."
TankStream's instrumentation will monitor up to eight tanks and eight sensor packs. Tank contents are polled every 20 seconds and the data is automatically uploaded to the internet.
Real time stocks and alarms can be relayed by email and the situation reports streamed to any web browser, either mobile or at any geographic location with internet access. The system can also be scaled up to incorporate the smart control of pumps sets with the ability to reset fuel dispensers remotely via the web.
www.tankcare.eu.com