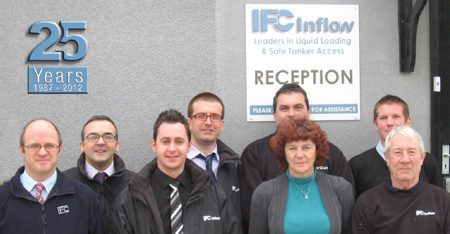 IFC Inflow celebrates its 25th anniversary this year. Founded in 1987 as Industrial Flow Control Ltd, primarily to sell tanker loading and process metering equipment, the company is now run by operations manager, Kiran Shaw and technical director Greg Clarke. Both agree that 25 years in business is a real milestone and, to be still growing and developing is key to its success.
Engineering solutions
Initially IFC Inflow was a distributor of flow meters and loading arms. The company now provides total project solutions including design, fabrication and installation services along with a range of standard products direct from stock. Kiran says: "In 1987 we only sold products that were made and designed by other companies. As customers reduced their in-house engineering staff, it became apparent that we needed to offer engineering solutions, as well as standard products. We invested heavily in our own design and engineering facilities and developed equipment better suited to our customers' needs". Moving from a standard equipment distributor to a total solution provider – we listened to customer requirements, provided purpose-designed solutions incorporating existing products, and designed or sourced new products to match customer needs.
IFC Inflow also pioneered the use of bottom loading skids in the AD depot market. The company's first unit was built in 1994 and since then, over 100 units have been supplied in the UK alone. IFC Inflow has also expanded into tanker loading, fuel bunkering and tanker safe access sectors.
The company has doubled in size. Its customer base has grown to over 2000 clients with many blue chip companies; export business has tripled. "Over the past 25 years we've gained a unique insight into the specific needs of our customers. This enables us to provide the most effective solution to any tanker loading or safe access requirement. We look forward to what the future holds," adds Kiran.
www.inflow.co.uk