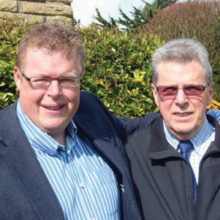 In 1997, BWOC was purchased by the Marquard & Bahls group, owners of Mabanaft, Silveys and Advance Fuels. "The sale was a perfect fit," explained Mark. "Like BWOC, Marquard & Bahls believe in supporting independents and investing in people – philosophies close to our heart. Being part of a larger group has enabled BWOC to roll out its proven model of supply in the south-west, on a national basis."

The management team

With the business now supplying in excess of 700m litres per annum, the management team consists of Mark and Steve along with Marnie Crowther; Rachael Giles and Jason Rogers.

Prior to joining in 2007, Marnie spent a year with a previous group company, East Anglian Fuel Oils; Marnie manages the northern and eastern region serving the Thames, east coast and north-west of England. Rachael joined in 2003 to market the company's Keyfuels and Fast Fuels cards, whilst Jason is responsible for the western division consisting of Wales, Birmingham and the south-west. The five members of the team have a collective 95 years of industry experience.

Support for independent distributors and new start-ups

Under more pressure than ever before, distributors play an important role in the UK's energy network. BWOC sees itself as a genuine alternative supplier to the distributor market.

"In today's changing and challenging market, our customers not only need competitive and reliable supply," says Mark. "But also the opportunity to look at different mechanisms of supply in order to be more competitive and meet the changing demands of their customers"

"The oil market has without doubt become more volatile – price swings are greater, with changes coming by the minute. Technology has also allowed customers at all levels, access to market information so allowing more informative choices."

"Kerosene demand will always be reflective of the weather, so predicting sales of kerosene remains difficult. After three cold winters, this one has been restricted to two cold weeks in February! The seasonality of kerosene has led many distributors to look at widening their offering to reduce dependency on the weather. In recent months, we've introduced a mechanism of reward for our contracted distributors to sell our fuel cards and help diversify some of their income streams. We're seeing more taking up this option," added Mark.

BWOC has recently supported some of the newer entrants into the market – Moorland Fuels, Craggs Energy, Sweet Fuels and Oil 4 Wales. "As well as supplying established businesses, we're committed to assisting new ones," said Mark. "As a company with 30 years industry experience, we can also help start-ups with finance, IT, legislation, health & safety, risk assessment, DGSA services and much more."

Managing transport and supply costs

BWOC has always had a passion for transport and understands the importance for product to be delivered reliably and safely. "Having run our own fleet for many years, we recently took the decision to work with an experienced logistics partner to bring additional value to our customers. We chose Turners of Soham because the company shares our philosophy for customer service and through their size, brings us improved economies of scale," Mark explained. Articulated tankers at BWOC's 12 supply locations are now all operated by Turners.

However, BWOC still routes all its vehicles to ensure customers receive the best possible service. "We continue to search the market for the best value and lift from various locations to pass on that best value to our customers. Whilst we've traditionally built our business around full loads, not everyone needs a full load in this economic climate, so we've had to evolve to meet our customers' current needs. As a company we benefit from relationships with several key suppliers and, as well as delivered in fuel, BWOC offers ex-rack opportunities."

Support for the rural garage

BWOC still supplies a reducing number of independent garages in rural locations. "Over the past five years, it continues to sadden me that many rural garages have been forced to close," says Mark. "Rural sites can't compete with the economics of the newer, larger sites – what a rural site can sell in a week, larger sites can sell in a day. Many sites have played important roles in their local community, being also a Post Office, local shop and provider of vehicle maintenance – once lost, they're unlikely to be replaced. We're still committed to stay in the retail sector but appreciate that we have to develop our offering to compete in a changing market."

Going forward with family values

"It's impossible to predict what our market will look like two years from now; no doubt there will be many more hurdles put in our way. Success will depend on how we overcome these hurdles within our industry. Rather than see them as threats, we need to find ways to look on them as opportunities.

"Everyone can, and must, look for ways to improve on the way they do business. In my view, future success will be dependent on managing costs and we constantly need to review procedures to improve operating costs. Customers buying patterns are changing; as is the way customers portray loyalty – how often do we hear that a customer wants to buy fuel from you but you need to be able to match their best price. I do, however, think there will always be opportunities to add value through service, relationships and innovation. Good service is vital and there will always be customers who value service above everything else.

"I will always adhere to the principles set by my father to support independents and all customers – large and small – are important and need to be made to feel important through actions rather than words. It is our intention to continue to evolve to meet our customers' needs and to ensure we always remain an option for those customers with an independent outlook.

"In my eyes, much of the success that the business enjoys has come from the commitment and expertise of those around me, and their teams, backed up by an excellent family pedigree and good parentage in Marquard & Bahls."

Like his father before him, Mark too grew up in the oil industry. Having taken an interest from an early age, he joined the business at sixteen. The father of three boys, Mark hopes at least one of his boys will join the business at some stage. Mark does, however, feel that it is important for his sons to complete their education and get a sample of life so they will be able to bring additional skills to the company.

"I still look forward to each new day – there can't be many jobs where you come to work and get the variety that our industry offers. And, I know that's a belief many of us, who share a passion for our industry, hold."

Green credentials and charitable support

Taking its environmental responsibilities very seriously, BWOC is proud to support British reforestation schemes. "We capture 100% of our own carbon footprint and 10% of that of all our fuel card customers when using our fuel cards," said Rachael. "Working with Forest Carbon, we have planted thousands of trees across the UK. By setting a good example ourselves as a genuinely transparent, responsible fuel supplier, we're encouraging customers to up their contribution too. The move, which has differentiated our card in the market, has appealed

to the public sector and those aiming for sustainable transport. Many new customers have taken our fuel card because of the carbon capture."

In the office, everything possible is recycled, ethically produced products are used and a paperless invoicing system is in use.

Wishing to invest back into the community in which it operates, BWOC is an active supporter of local charities and supports an array of children's local sports teams.